Raw Complexions
1 results
Purify Your Skin From the Inside!
With years of experience in both the skincare industry and the medical profession, Kristina, the founder of Raw Complexions, set out to create a solution for problematic skin that addressed it from the inside out. Thus, Raw Complexions was born--their range features supplements and powders packed full of antioxidants and vitamins that seek to promote internal balance. Created using Kristina's wealth of knowledge, accrued from her degree in Biomedical Science, nutritionist qualifications and extensive work in the skincare world, Raw Complexions is has proven successful for many young men and women looking to banish their blemishes for good.
If your skin is suffering from breakouts or just looking a little worse for wear, Raw Complexions suggests it might be time to break out the Skintox! The Skintox Beauty Food powder contains a blend of superfoods and ancient Chinese medicinal herbs that have numerous purifying benefits, helping to detoxify the liver and promote gorgeous skin from within. Flaxseed meal helps to maintain hydration and prevent against free radical damage, whereas bee pollen encourages skin cell turnover and stimulates collagen production. Other ingredients, including Pomegranate and Amla Berry, work to cleanse internal toxins, allowing purer skin to shine through. Slip a tablespoon of your Beauty Food into your smoothie, juice or yoghurt daily and watch as results appear in just weeks!
Concerned about the visible signs of ageing? Ahh, aren't we all? There's something you can do to help slow it all down, though--rejuvenate your insides first! Formulated with alkaline greens, medicinal herbs and more, the Raw Complexions Skin Balance Beauty Food is ideal for anyone looking to turn back the clock. Fruits and veggies rich in vitamins, such as strawberry, alfalfa, asparagus and beetroot, along with kelp, turmeric and other beneficial ingredients, help to give skin cells that boost they need to turn over more frequently. Say goodbye to fine lines and wrinkles, and hello to fresher, younger-looking skin! Simply sprinkle a tablespoon of your Skin Balance into your favourite smoothie, cereal, yoghurt or juice once daily.
It's clear that Raw Complexions is the way to go if you're looking to give your skin an extra nudge on its way to beautiful, whether you're concerned about acne, rosacea, dullness, ageing signs or anything in between! Make these unique beauty powders a part of your daily routine and watch as results appear, leaving your complexion feeling fresh, pure and glowing. RY.com.au is proud to be an authorised Australian stockist of Raw Complexions.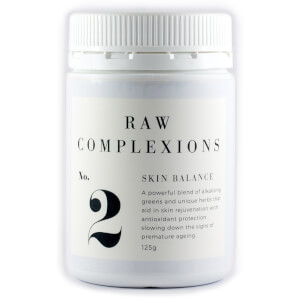 Raw Complexions Skin Balance Beauty Food 125g