The Celebrity Beauty Looks We Love the Most
Celebrities are endless sources of inspiration, especially when it comes to beauty trends and styles. From their hair to their makeup, we love seeing their latest looks and even recreating them. 
But whose look do we love the most? Which celebs inspire our new haircuts, makeup looks and the beauty products we use? Here at RY, we wanted to find out which celeb looks are our favourite, so we analysed search data for over 200 of the world's most loved celebrities to find out whose hair, makeup and skincare we are most interested in.
The Celebrities with the Most Popular Looks
Using Google tools, we were able to research the search volume for particular beauty terms and phrases. We then compiled a list of over 200 celebrities from sources such as Glamour, Allure, Good Housekeeping and Ranker.
Next, we analysed Google searches for each celebrity alongside the words 'hair', 'makeup' and 'skincare'- taking a total of all three search terms, in order to find out which celebrity looks we're most inspired by. So who tops the list?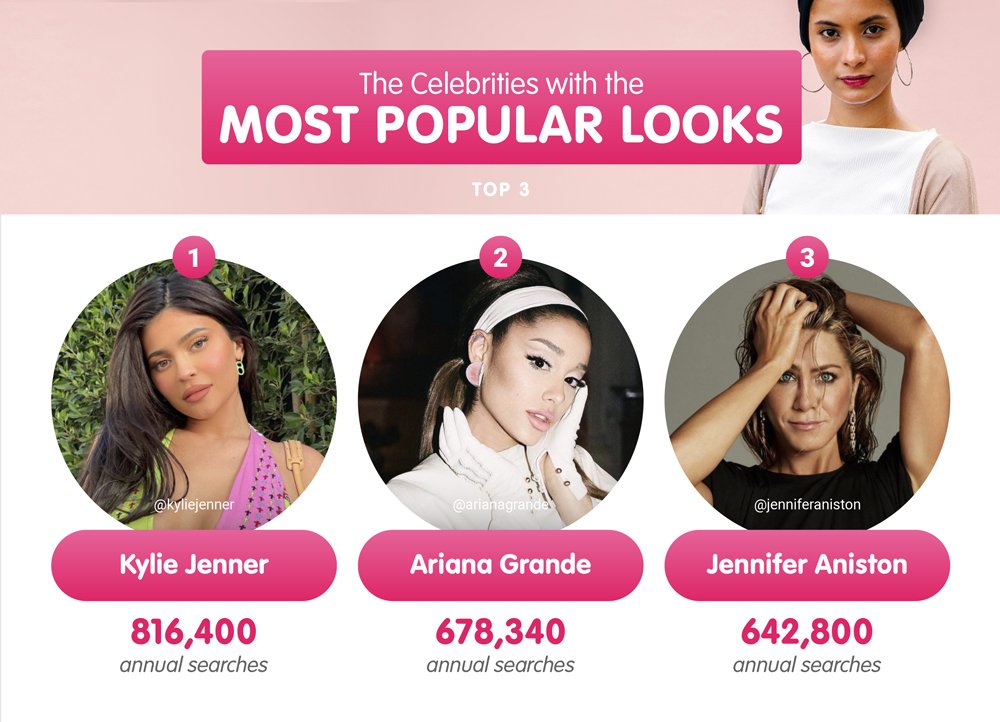 Kylie Jenner
Kylie is well known for beauty, having founded a makeup line that made her the youngest self-made billionaire at 21. Being such a familiar face as a member of the Kardashian/Jenner family, and a cast member of the reality show, Keeping Up with the Kardashians, it's no surprise that so many people would want to recreate her look.
Ariana Grande
The number two spot goes to one of our favourite songbirds, Ariana Grande. With a number of iconic music videos under her belt, she has shown us her versatility with a range of different looks. However, the look she's known best for is her signature high ponytail and cat-eye makeup.
Jennifer Aniston
Known to most of us as Rachel Green, Jennifer Aniston inspired an entire generation during the 10 seasons of Friends. While we were tuning in to see if she and Ross would ever work out, we were also taking notes on her best looks, and despite the show ending in 2004, we're just as obsessed with her look now, as we were 30 years ago.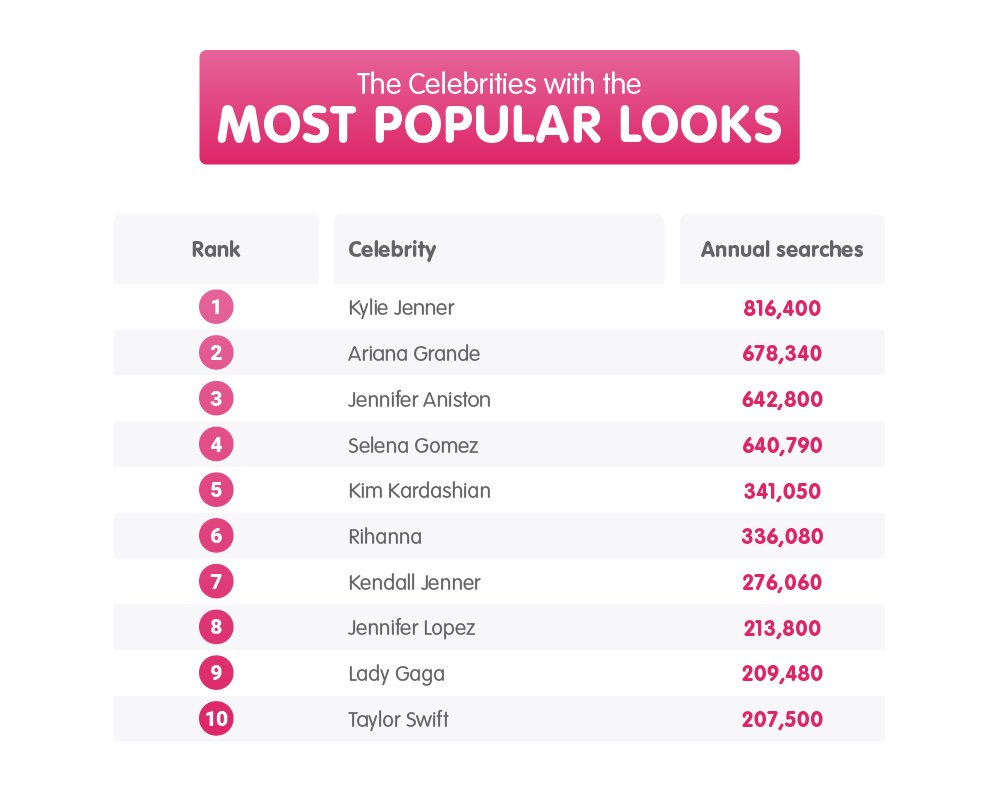 Australia's Most Popular Celebrity Looks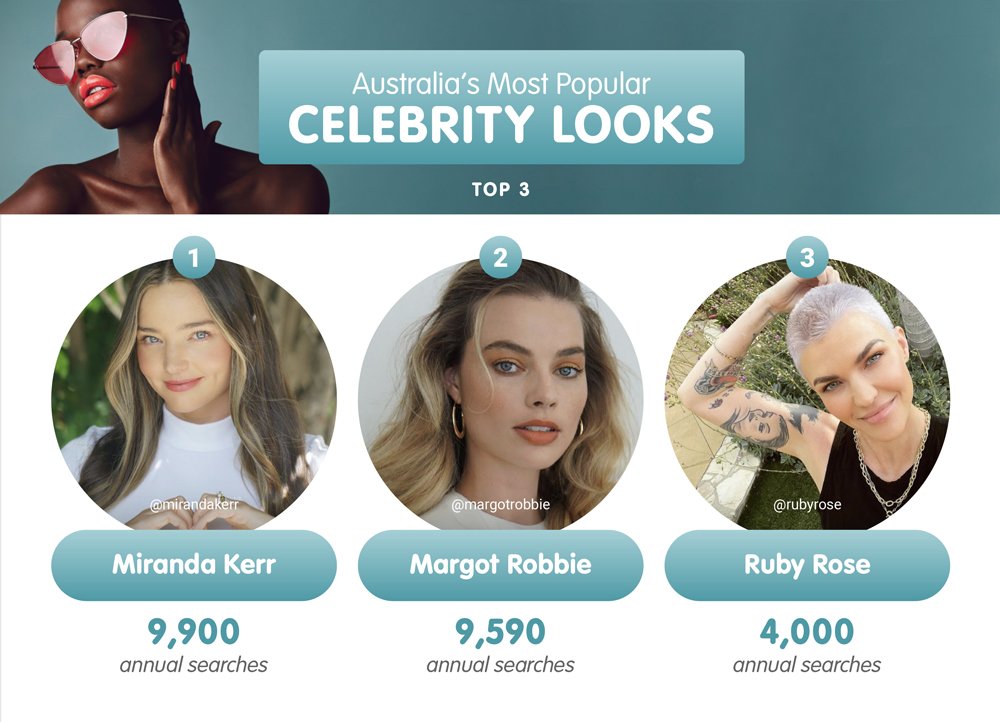 Miranda Kerr
As the first Australian Victoria's Secret model, it's only appropriate that MK tops the list. Victoria's Secret Angels are known for their ethereal beauty, so of course, Kerr gets thousands of searches every year from fans wanting to recreate her latest makeup and hair looks.
Margot Robbie
One of Australia's most well-known exports, Margot Robbie has come a long way since her days on Ramsay Street. Now, this blonde bombshell serves as the ultimate Aussie beauty inspiration. From her glowing skin to her golden locks, we all want to know how to look more like Margot.
Ruby Rose
The world may know her as Stella in 'Orange Is the New Black', but Australians knew her long before when she was presenting on MTV. Having then gone on to become the face of Maybelline, it's clear why so many of us are searching for her beauty regime.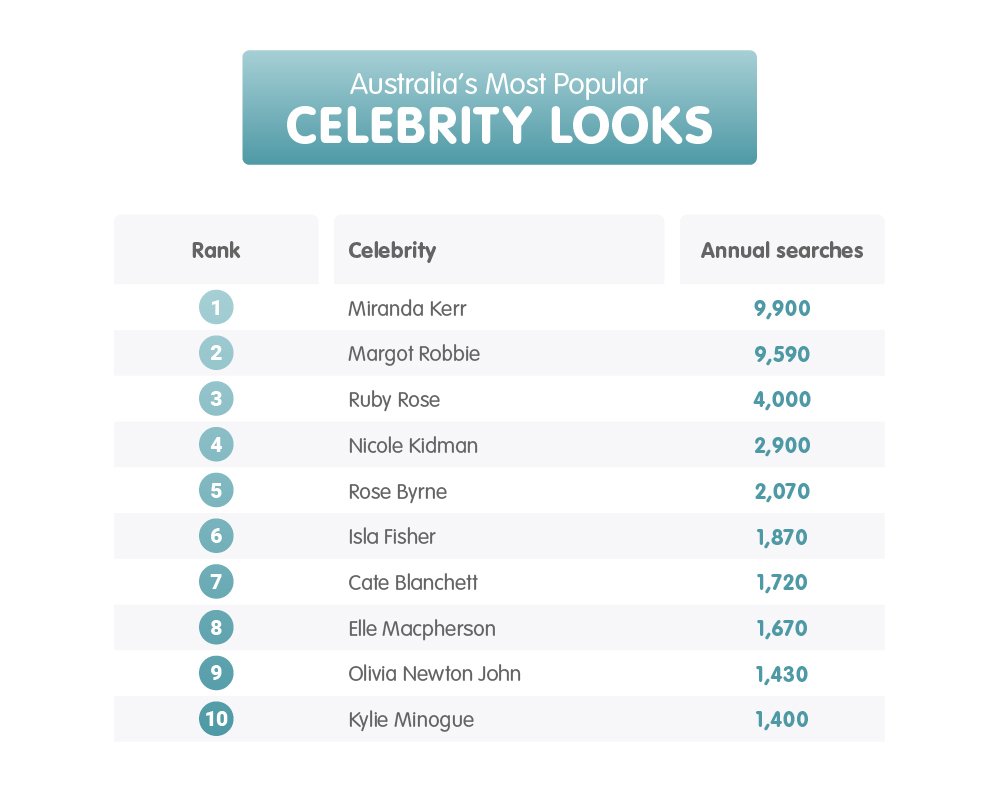 Our ultimate ranking covers hair, makeup and skincare searches, but what about when we break these down by specific looks?
The Most Popular Celebrity Hair Inspiration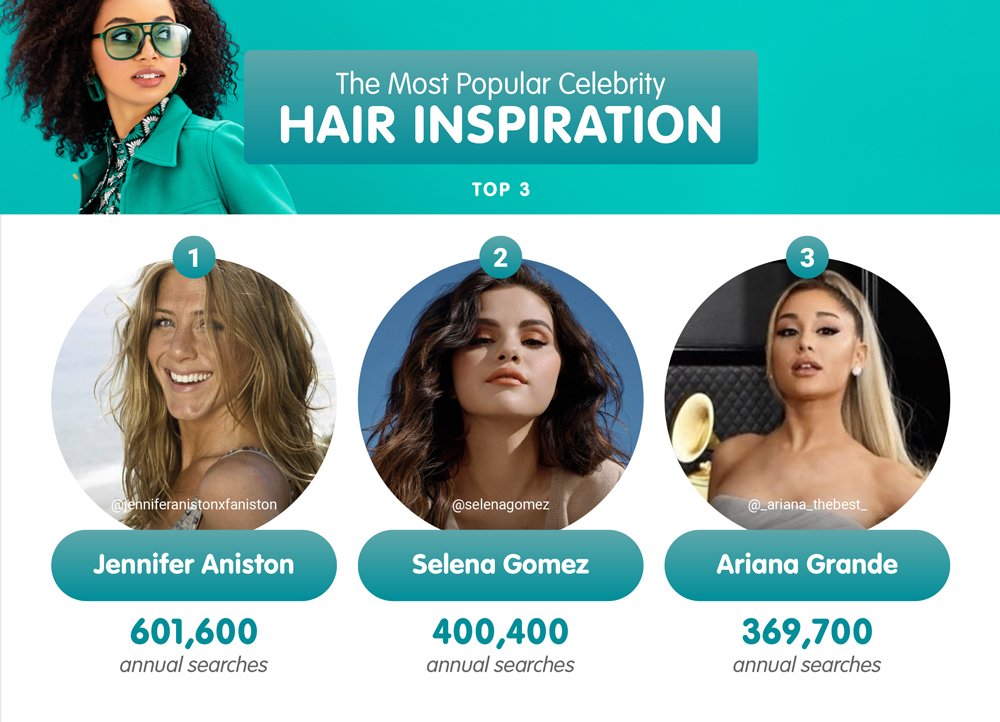 Jennifer Aniston
Could there be anyone else to top the hair inspiration list than Jennifer Aniston, the woman who gave us 'The Rachel' haircut? 30 years may have passed since her bouncy and voluminous locks hit our screens, but she's still inspiring fans today.
Selena Gomez
From a sleek blonde bob to long tousled brunette waves, Selena Gomez manages to pull off just about every hairstyle she tries out. With so many hair looks, Selena well and truly earns her place at number two of the top celebs for hair inspiration.
Ariana Grande
Is there any current hair that looks more recognisable than the high ponytail of Ariana Grande? While she might switch things up when it comes to colour, we can always rely on Ariana to serve the most iconic ponytail looks of the 21st century.
The Most Popular Celebrity Makeup Inspiration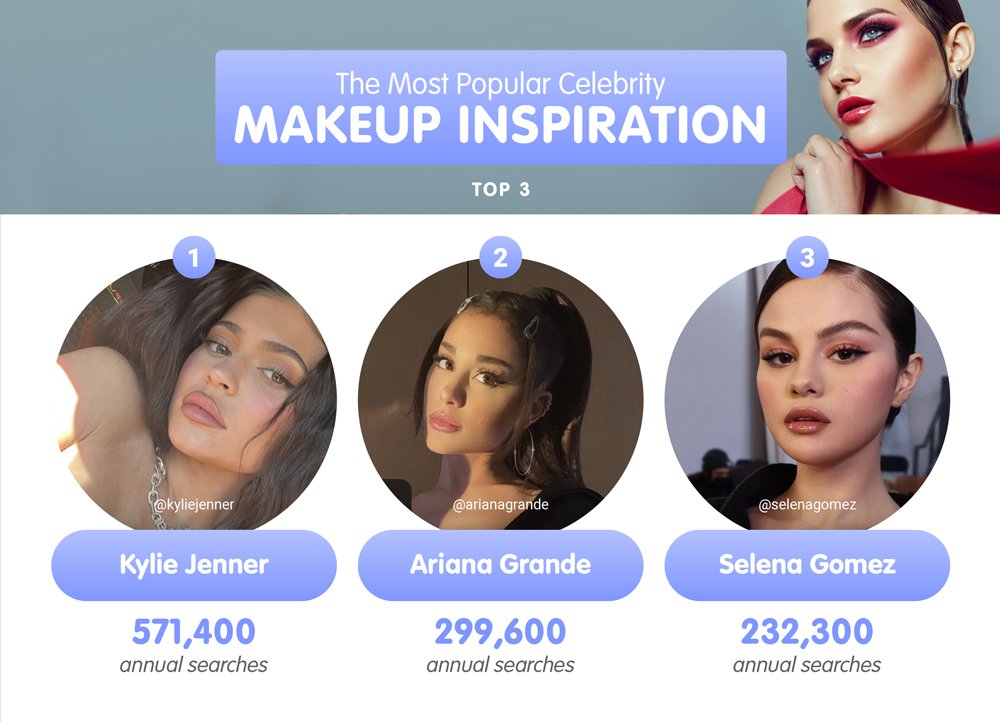 Kylie Jenner
Of course, if anyone is taking the top spot for makeup inspiration, it has to be Kylie Jenner. With her own makeup line, there's no surprise that we're looking to her for makeup ideas. Kylie always manages to deliver, having the versatility for natural as well as glamorous looks to inspire.
Ariana Grande
Ariana finds herself in the top three again, but with her signature cat-eye flicks and glossy lips, we can understand why. If you're looking for inspiration on how to get the perfect winged liner, Ariana is the person to look to.
Selena Gomez
We all know that Selena isn't afraid of a bold makeup look and whether she's rocking a red lip or a dramatic eye, her looks provide plenty of inspiration. With over 200,000 searches every year, we're not the only ones who think so.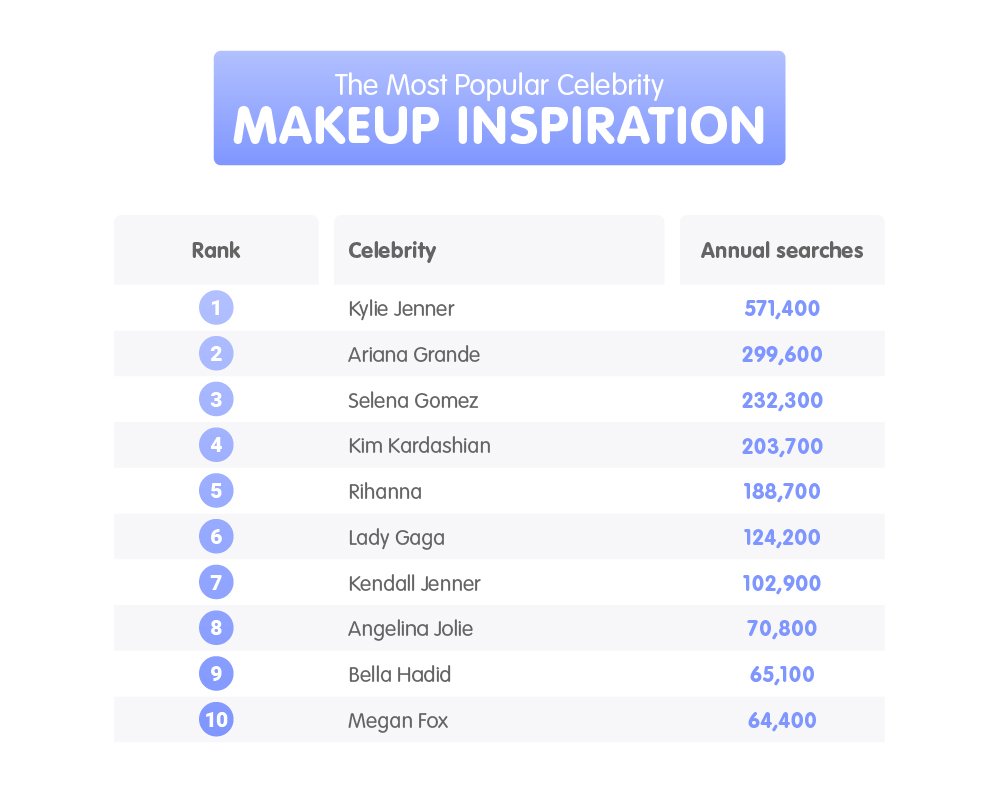 The Most Popular Celebrity Skincare Inspiration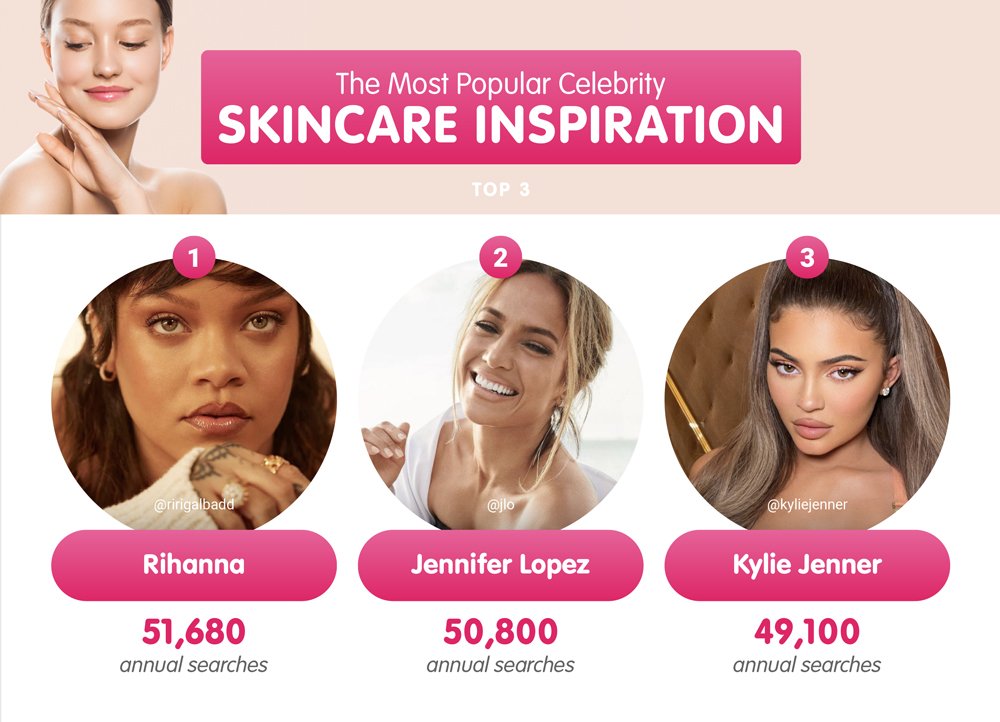 Rihanna
With such clear, glowing skin, we're all wondering what secrets Rihanna has. As she has her own range of skincare through her brand, Fenty Beauty, fans can try to emulate her skincare routine and find a Rihanna-like glow for themselves.
Jennifer Lopez
Jennifer makes the top three and is over the age of 50, but with skin as flawless as J.Lo's you would never know it. She also has her own anti-ageing skincare range, JLo, so it makes sense that fans would be searching in their droves for the secrets to Lopez's youthful skin.
Kylie Jenner
Only missing out on a top-three position in one category, Kylie Jenner is back with nearly 50,000 searches every year for her skincare. Being in front of the camera so often, Kylie manages to maintain flawless and dewy skin that we would all love to be able to achieve.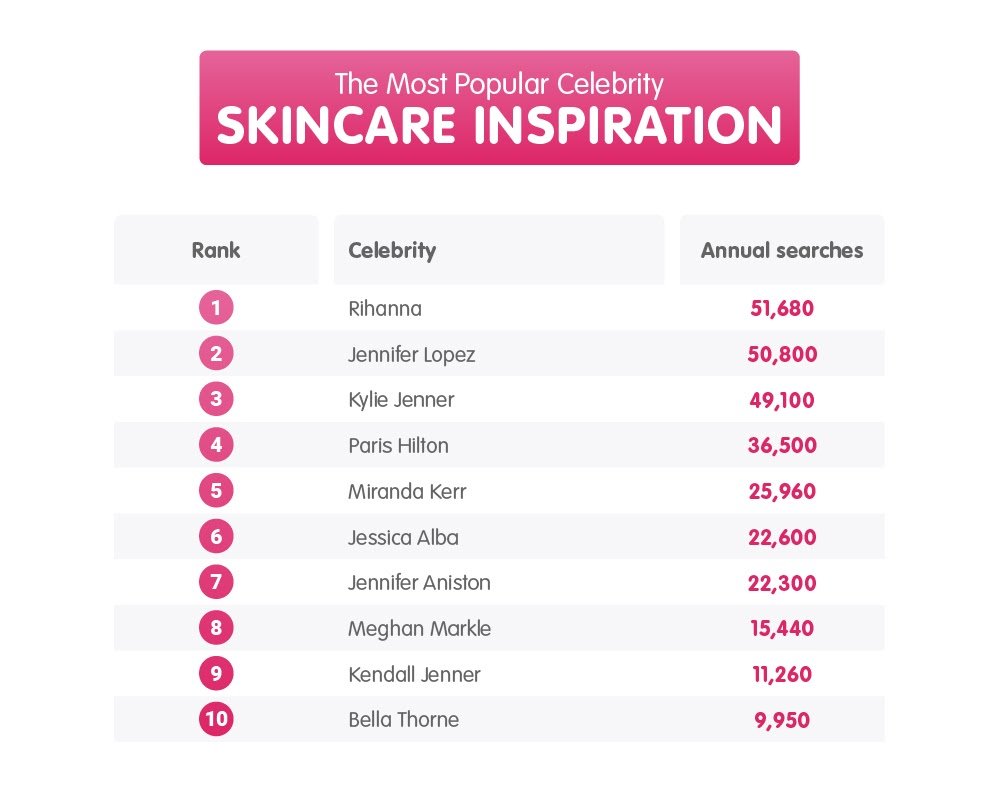 Celebrity Beauty Inspiration From The Past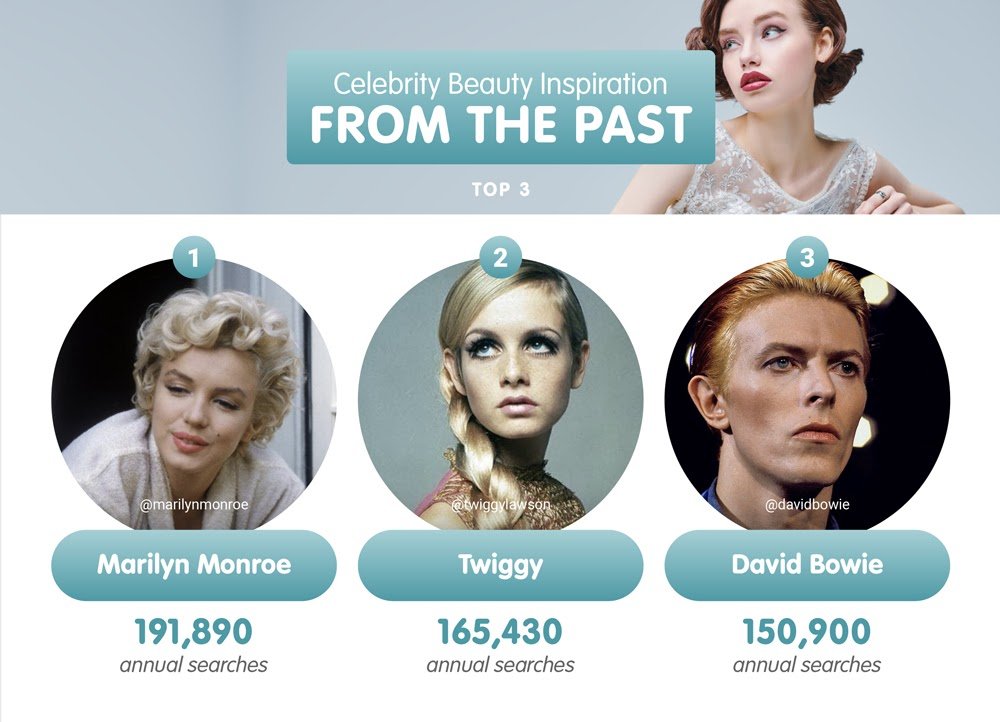 Marilyn Monroe
It's no surprise that Marilyn Monroe takes the top spot for celebrity beauty inspiration from the past, has inspired us since the 1950s. Famous for playing blonde bombshell characters, Monroe had a trademark makeup look, which included dark arched brows, pale skin, red lips and her iconic beauty mark.
Twiggy
In the second place, is the iconic 60s trendsetter, Twiggy, who is still considered a style icon today with over 165,000 annual searches for her bold and glamorous makeup looks. From dramatic eye makeup to thick lashes, it's no wonder Twiggy is still serving us beauty inspiration today.
David Bowie
One of the most influential musicians of0 the 20th century, Davie Bowie takes third place. His jaw-dropping makeup looks from Ziggy Stardust to Aladdin Sane are still proving hugely popular as beauty looks today, with over 150,000 annual searches.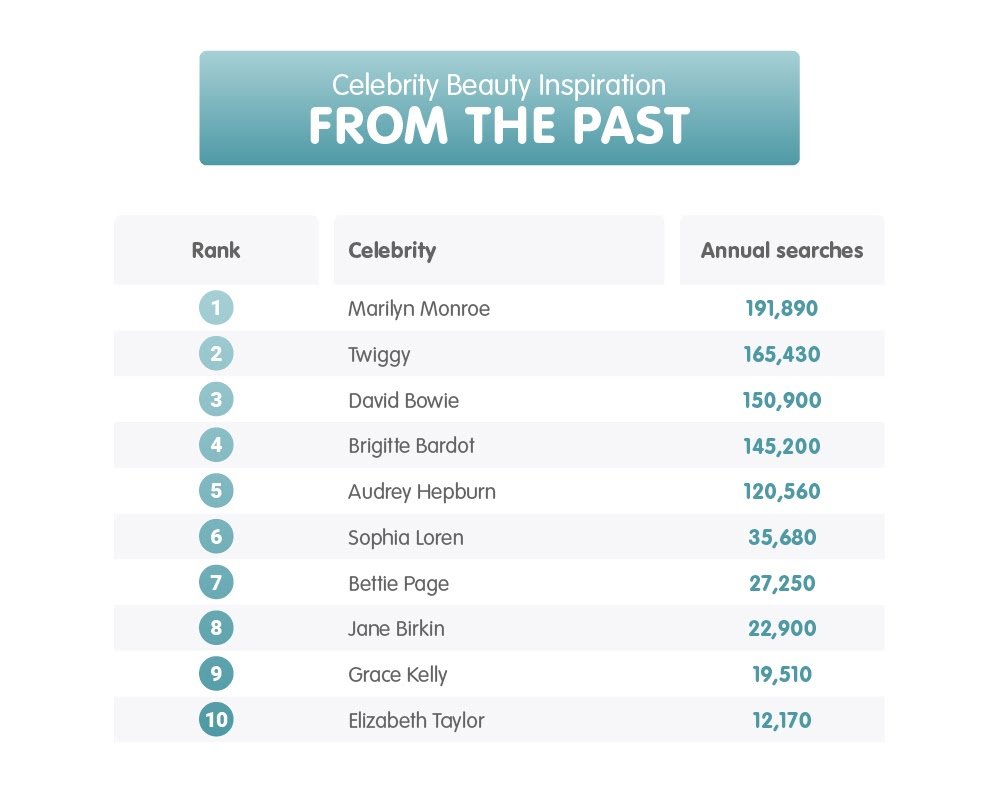 The Most Newsworthy Celebrity Beauty Icons
The media just can't get enough of celebrities and their beauty regimes, but which celebs get the most coverage? We used the same keywords to discover how many news articles included these words in relation to each of our top celebrities.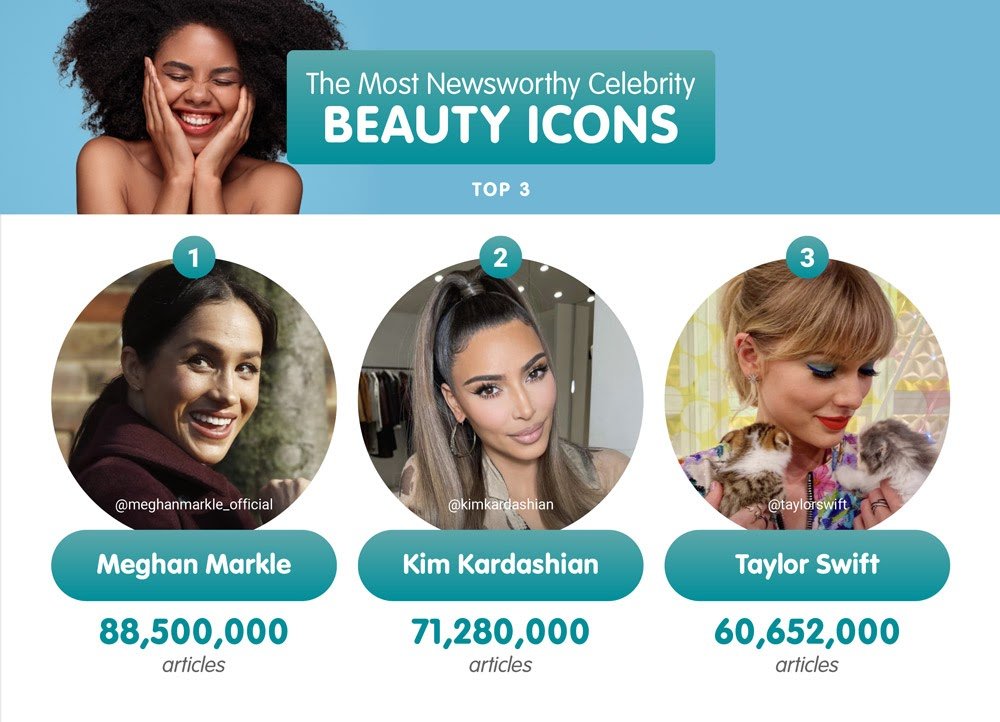 Meghan Markle is one of the most heavily covered celebrities by the press, and her beauty regime is no exception. With 88.5 million articles written about her hair, makeup and skincare, she outstrips all of the other celebrities by over 17 million articles.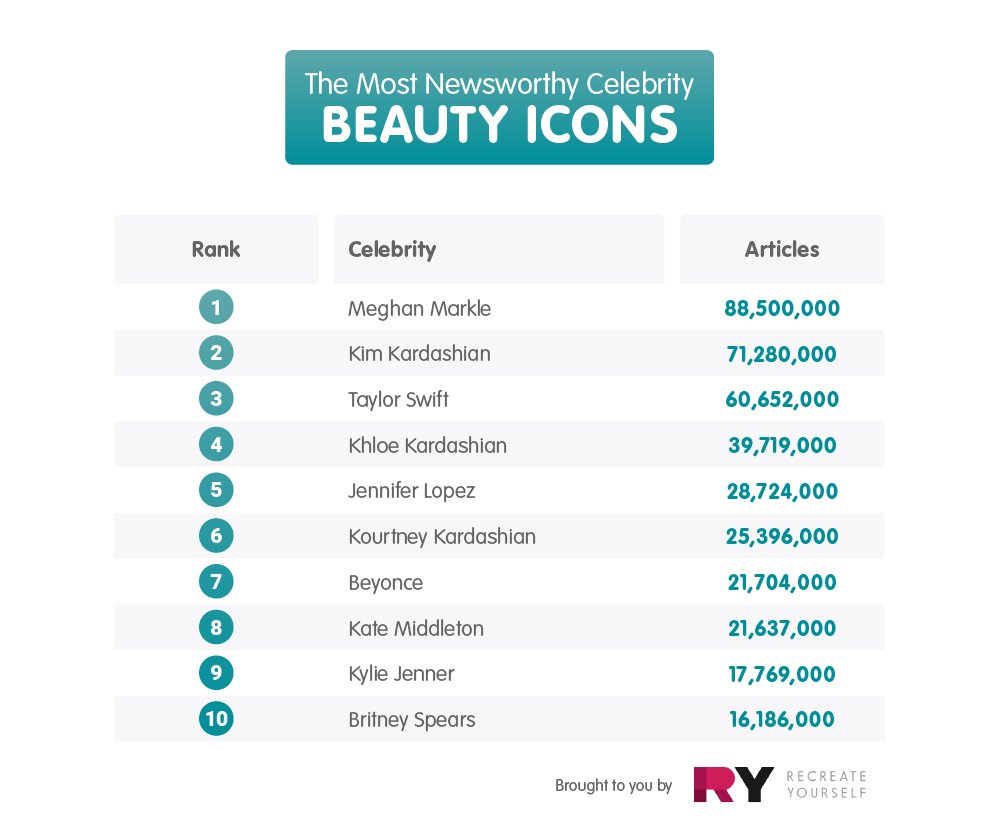 Methodology:
We compiled a list of 232 celebrities from online sources such as Glamour, Allure, Good Housekeeping and Ranker. We then put the name of each celebrity along with the keywords 'hair', 'makeup' and 'skincare' into our keyword tool (Google Keyword Planner) to find global search volume for the past 12 month period (Apr 2020-Mar 2021). Once we collected all the data for all 232 celebrities, we ranked them based on the ones with the highest net search volume.