Seen the acronym 'VOSN' floating around the internet but not sure what it actually entails? Well, you're about to get a whole lot more enlightened (and probably more inclined to hand over the contents of your wallet, let's be real).
Your Guide to Vogue Online Shopping Night at RY.com.au
VOSN stands for Vogue Online Shopping Night, which is a tailored event that occurs three times yearly for us Aussies. If you're a regular Vogue reader, you're probably already quite in the know about this cool little event. If you're not a fashion magazine kind of gal, though, then not to worry. Here's the breakdown of VOSN.
How it Works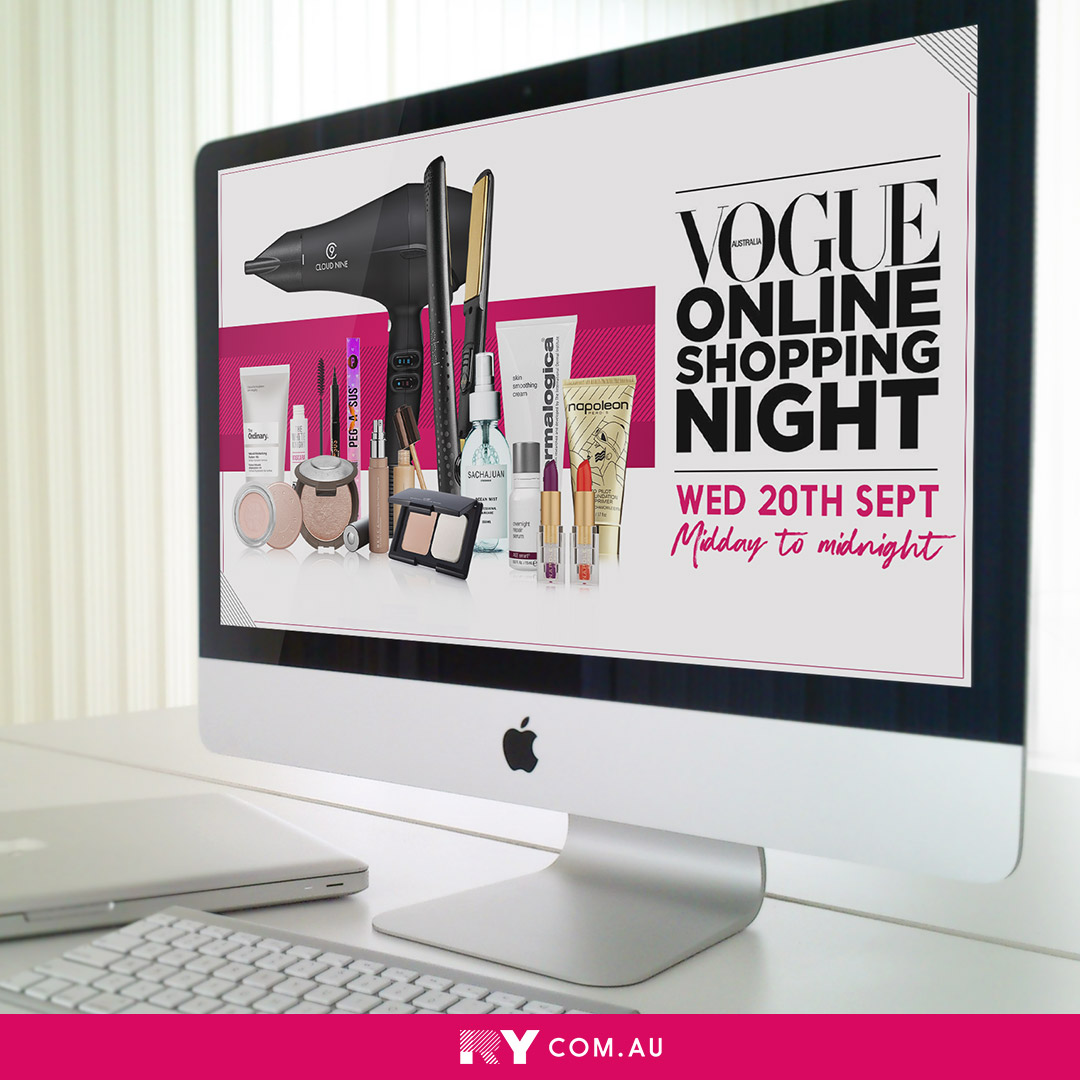 Hop onto the Vogue website on September 20 and navigate your way to the VOSN page. This is where the good stuff is! Essentially, Vogue have collated a ton of insane deals for their readers, exclusively available to discover on their website. Each deal is with a different retailer, from shoes and clothes to furniture, decor, and of course, makeup.
This is definitely an opportunity to do all your shopping in one hit. We'll be the first to say that the discounts and free gifts you can bag are pretty amazing. Go for a new wardrobe with Princess Polly, shades with Quay Australia, or even some home decor from West Elm.
So, if you haven't already cottoned on, this is a lineup to rival Splendour–and it wouldn't be complete without a few makeup, haircare and skincare treats thrown in by yours truly! Yep, RY are so in for this year's Vogue Online Shopping Night. Keep on reading to find out the bargains you could bag if you shop with us on the big day.
What You Can Grab
We've got some stellar deals going on, the first of which is 20% off selected, highly-coveted brands. From Napoleon Perdis and Sigma to Lime Crime, Bite Beauty and more, your makeup bag will feel fresh after this little splurge!
If you're a newbie to RY.com.au, never fear–we've put together a cheeky deal just for you! Take $20 off your first-time order over $99, whatever it may consist of. Maybe it's time to finally pick up that stunning, sleek new ghd you've been dreaming of. Or, perhaps your Dermalogica collection is looking a little worse for wear–replenish your stash with us and take $20 off.
Of course, that isn't all we've got going on! We're also boasting 10% off everything, so if your brand of choice isn't amongst our 20% off superstars, you'll still pick up a pretty sweet deal.