Ever wanted to laze about in the sun without the fear of getting burned, whilst still building up that gorgeous, bronze tan? The best of both worlds has been notoriously hard to come by (especially for those who burn like a lobster, AKA me), but now, sun care brand Institut Esthederm are here to change the game.
Revolutionary Brand Institut Esthederm is Pioneering Skin Safe Tanning
Institut Esthederm are a French-based brand that are utilising revolutionary technologies to create products that filter out damaging UVA and UVB rays without completely closing off tanning potential. Their range is filled with formulas suited to different skin types and needs, making them a perfect summer skin investment.
Their formulas work by combining three key complexes — Adaptasun, cellular water and traditional SPF. Adaptasun is responsible for letting the sun's rays filter in, where SPF helps shut out anything that can cause damage to skin cells. Finally, synthetically-produced 'cellular water', which replicates water found within the body, helps with skin regeneration, hydration and building skin health.
Now that you're sun care savvy, keep on reading to find out about some of the favourites within the Institut Esthederm range, all of which can be found in the new RY Summer Edit!
For the Body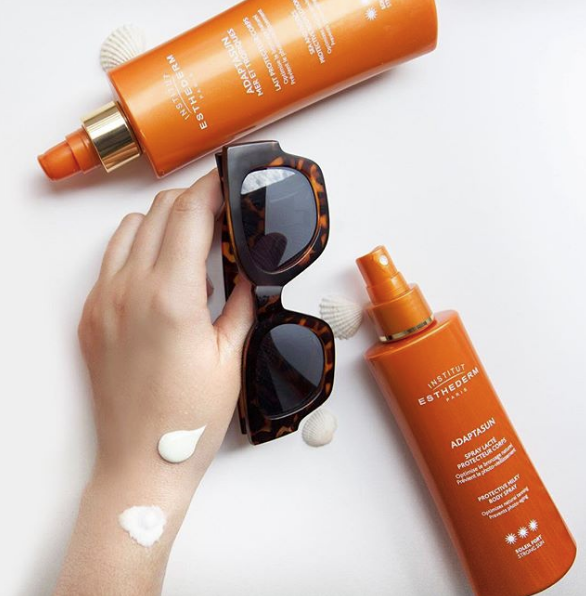 Are you a beach babe who can't give up your stunning, golden tan? Well, you don't have to — the Institut Esthederm range is the answer to healthy skin without damage, even when soaking up the most intense of rays. Pick up the Institut Esthederm Adaptasun Body Lotion Strong Sun to protect legs, arms, back and shoulders against UVA and UVB rays, without limiting your tanning potential.
The cream formula smoothes on easily without feeling oily or greasy, and ensures that the skin's natural melanin production occurs effectively, leaving you with a glowing tan. It also works to prevent against physical ageing signs, optimising sun delivery and guaranteeing wrinkles and fine lines don't develop. If you're not sitting out in the sun for hours, grab the same formula in a Moderate Sun version.
If you prefer a spray formula, Institut Esthederm have made things simple for you with their Adaptasun Body Spray Strong Sun. It features all of the same benefits as the Adaptasun lotion, and is also available in Moderate Sun protection.
Although it's not an SPF, the Institut Esthederm Bronz Impulse Face and Body Spray is also a key product to integrate into your sun care routine. Instead of heading out into the blinding sun with this product on, use it daily, pre-SPF, to strengthen the skin's defence against the sun. It's the perfect sun preparation, as it helps build up your 'tolerance' to UVA and UVB rays, in addition to helping optimise your tan when you are exposed to the sun, helping you to get bronzed quicker and on a deeper level. Make sure to apply SPF liberally before you're exposed to the sun!