Living in a city has its perks, but there are also hidden downfalls, especially if you're concerned about skin ageing. Pollution is an undeniably real thing in most of the world's cities, due to constant emissions from cars, machinery and other typical city staples. As a result, anti-pollution skincare is a bigger market than ever.
Anti-Pollution Skincare All City Dwellers Need
Whether you're in Melbourne or Mumbai, Wellington or Washington, keeping the skin protected against pollutants is an incredibly important, non-negotiable step in your routine. It's time to shield that gorgeous skin against the side effects of living in a city — they're more serious than they may seem. Keep on reading to discover the anti-pollution skincare essentials you can work into your daily regimen right now.
The Ingredients
There are a few ingredients to keep an eye out for when you're choosing anti-pollution skincare. These include essential vitamins and minerals in addition to SPF and other known protectants. Here are some must-have ingredients that'll be well-received additions to your routine:
Vitamin C – Everyone's favourite antioxidant, Vitamin C has a multitude of benefits for skin exposed to pollution. Antioxidants in general prevent against the oxidisation of the skin's barrier lipids by air toxins, meaning fewer nasties are able to penetrate the skin's surface and do lasting damage. Vitamin C not only does this, but encourages collagen production for a more youthful look.
Vitamin E – Similarly to Vitamin C, Vitamin E fends off free radicals, ensuring they can't damage the skin on any level. It also ensures quicker skin cell turnover for a fresher, younger-looking complexion free of dry patches and even pigmentation spots, if used frequently enough. Vitamin C also boasts this amazing benefit, so either (or both!) of these antioxidants are a must-have for city skin.
Barrier shields –  Some ingredients can act as shields for the skin, essentially blocking off the path pollutants would take to reach and damage the skin's deeper layers. These superstars include lanolin, glycerin, beeswax and niacinamide, as suggested by The New York Times.
SPF – Of course, we can't forget our daily essential — sunscreen! Even if you're going bare faced, facial sunscreen is something you absolutely can't do without. Make sure you're choosing a high SPF if you're wearing makeup, as this will make reapplying an impossibility throughout the day — SPF50+ is always worth the purchase for skin on the face.
Cleansers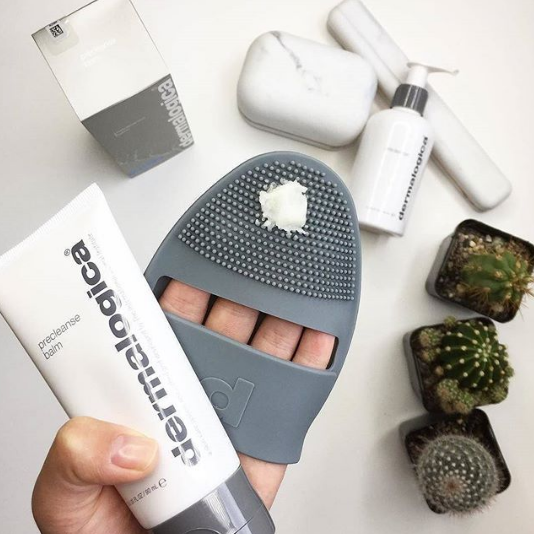 Anti-pollution skincare is definitely on the rise, and cleansers for this purpose in particular are dominating the beauty world. When choosing a cleanser to fend off the elements, it's important you choose something that reaches deeply into the pores to remove dust, dirt and other environmental byproducts that may have snaked their way in there throughout the day. Double cleansing is also a great practice to get into if you live in a city, as this ensures the skin is really clear and that no nasties are trapped.
Go for the Dermalogica PreCleanse Balm if you've got normal to dry skin, making it the first step in your double cleansing routine. The balm consistency cuts through dirt and day-to-day grime to reveal clearer pores. Then, simply go in with your favourite gel or cream cleanser to deliver any additional benefits you're after. Oilier skin types will love the brand's OG PreCleanse, which takes the form of an emulsion to trap oils without over-drying.