Vitamin C has a long-standing reputation as the go-to ingredient to protect against skin ageing, tackle lines and wrinkles, and brighten the skin. Now, we're finding out that this potent, powerhouse ingredient has even more incredible benefits for our skin.
Not only does Vitamin C protect against skin damaging free radicals, but the latest research shows Vitamin C can actually power up the skin's natural defence system, providing protection both inside and out.
Get Glowing With the New Dermalogica BioLumin-C Serum
As a result, cult-fave skincare brand Dermalogica have launched their latest innovation, the BioLumin-C Serum. This unique formula is packed full of hero ingredient Vitamin C.
Keep on reading to discover all about the benefits of Vitamin C, including how you can make the most of it, and how the new Dermalogica BioLumin-C Serum can transform your skin.
Conquering Vitamin C
Like a lot of things in life, harnessing the power of Vitamin C is complicated. Firstly, Vitamin C is highly unstable and must be tamed to stay active when it's on our skin. Secondly, in order to truly reap the benefits of Vitamin C, it needs to get to the right place in the skin, i.e. skin deep.
The Dermalogica BioLumin-C Serum is a Vitamin C-laden product that works on an effective deeper level, uniquely designed to overcome the common challenges associated with formulating with Vitamin C.
Brighter Skin From Within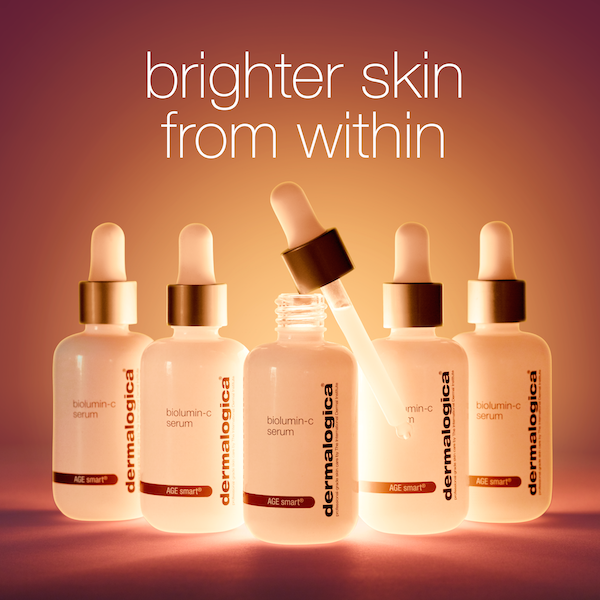 Dermalogica BioLumin-C Serum is maximises the full power of Vitamin C and works with the skin's own defences to stop skin ageing before it even starts. By combining two highly stable forms of Vitamin C, Dermalogica has mastered a serum with stability and stamina.
Stability is vital to the survival of Vitamin C, as is its concentration. If Vitamin C isn't stabilised, it will begin to break down within the packaging, as well as when applied to your skin. Keep Vitamin C potent and you'll experience much brighter, firmer and more radiant skin.
Another way the Dermalogica BioLumin-C Serum makes sure you get your punch of Vitamin C is to combine it with the use of an Alpha Hydroxy Acid (AHA), which gently exfoliates dead skin, enhancing product penetration and increasing skin brightening.