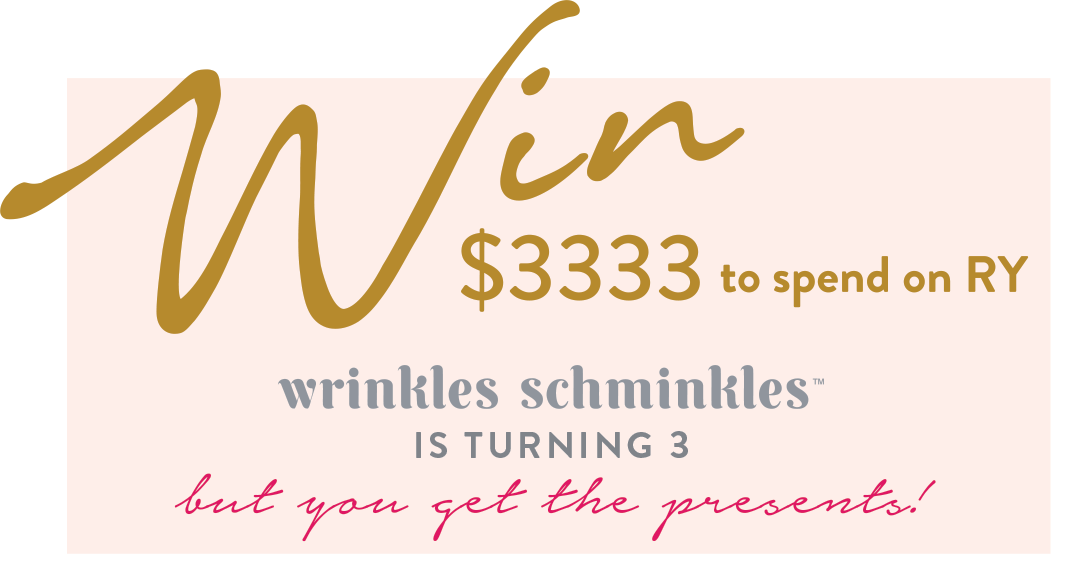 Have you heard of Wrinkles Schminkles? They're one of our newest brands on-site, and we're ecstatic to have them aboard on RY. Wrinkles Schminkles are all about anti-ageing (hence the fantastic name), and have created some of the most innovative products out there through their range of silicone sleep pads. With a silicone sticky at the ready for your eyes, chest, forehead and more, simply drift off to sleep and let the unique benefits take their course.
Now, let's get to the really good stuff–you heard correctly, we've teamed up with Wrinkles Schminkles to give you an amazing pre-Christmas gift! Simply enter your name and email address for a chance to win $3333 to spend with RY. Wrinkles Schminkles are celebrating their third birthday, so to celebrate, you're getting the presents!
Head over to the Wrinkles Schminkles website and enter your information here to go into the draw. Pop in the names and email addresses of your BFFs to win more entries! The competition ends on November 1, 2017, so get in quick for your chance to win big.

Shop the best-sellers from Wrinkles Schminkles today to reverse those pesky ageing signs. You'll never look back once you've experienced the difference silicone can make to your skin and body care routine.
Silicone has a massive range of benefits, including an increase in blood flow and the ability to lock in hydration in the skin. It also prevents against those lines and indentations you may notice all over your face and body upon waking up, as it creates a protective barrier and keeps skin taut.
Once added up, these benefits can truly turn back the clock against ageing, leaving you with a complexion that's more youthful, hydrated and healthy. Find out more about why we love Wrinkles Schminkles, and the key products within the range, over on this blog post. In the meantime, happy competition-ing–we hope you get lucky!