Every Christmas, we wait in anticipation for the newest Christmas packs and limited edition products to hit our shelves. From cult skincare favourites such as Alpha-H and asap, to makeup bundles from Jane Iredale, Napoleon Perdis and more, there's always something for everyone on your gifting list (or yours truly, because treat yo' self).
One limited edition release we've come to expect, year after year, is from ghd. Their highly-coveted range of styling tools always receives an exciting makeover come Christmastime, and 2017 is no exception. Enter the ghd Nocturne Collection…safe to say, we're absoutely drooling.
The New ghd Nocturne Collection is Here and It's Beautiful
The ghd Nocturne Collection is inspired by the transition from day to night, and features a stunning mix of deep violets and light lilacs as its primary colour scheme. Many of the bestselling products within the core ghd range have undergone a nocturnal transformation, including the ghd Platinum Styler, ghd V Styler, the ghd Air Hair Dryer and the ghd Curve Creative Curl Wand.
Keep reading to find out which products within the ghd Nocturne range are ideal for gift-giving this festive season.
ghd Nocturne Platinum Styler Gift Set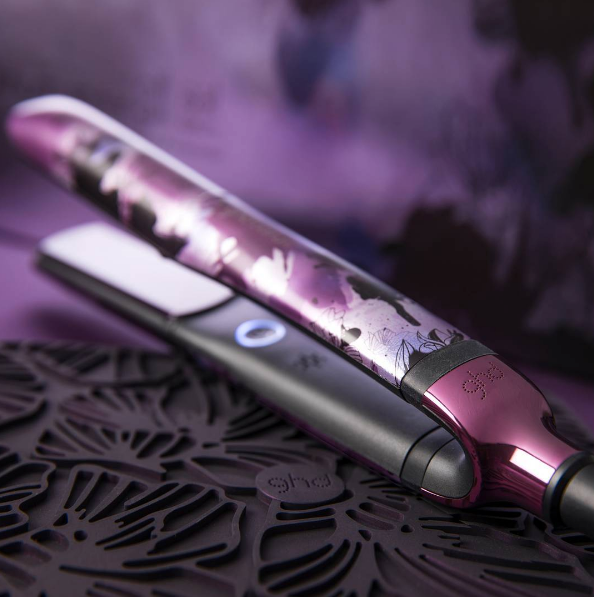 The Platinum Styler is the newest innovation in the ghd range, however has been around for quite some time now–it's just so good, that no other straightener can beat it! Give your loved ones the gift of a good hair day with the ghd Nocturne Platinum Styler Gift Set ($310), which features a beautifully designed, limited edition floral pattern. With a metallic aubergine encasing the straightener, and the unique, almost other-worldly design on the outer plates, this will look absolutely stunning on any bathroom counter.
The ghd Nocturne Platinum Styler features patented tri-zone technology, which ensures the hair is heated at the most appropriate temperature from root to tip. The unique plates minimise any damage inflicted upon the hair, preventing against breakage and splitting. Throw in the 30 minute sleep mode, universal voltage and a whole slew of other features, and we can say with total confidence this is the top of the top in the straightener world.
To give you a little extra Christmas pressie, the ghd Nocturne Platinum Styler Premium Gift Set also comes with a heat-protective bag in coordinating colours, as well as two bonus nail polishes from beloved brand OPI. Go for a snowy white with Happy Anniversary, or a deep purple with Black Cherry Chutney.