As 2017 begins to wind down, we're prepping ourselves for the impending party season. Whether you're off to a Christmas 'do, NYE bash or simply plan on heading out with your friends over your coveted few days off, you're going to need some makeup and outfit inspo for all your going out looks.
Enter Illamasqua and Beginning Boutique. One's a new makeup brand to RY that we'll be forever obsessing over, and the other is a beloved Aussie fashion site we can't help but spend all of our pay on. If this isn't a match made in heaven, I don't know what is.
Create Stunning Going Out Looks With Illamasqua & Beginning Boutique
If you find yourself in need of a little inspiration this party season, we've got you covered. In collaboration with Beginning Boutique, we've put together four going out looks that are sure to help you sparkle at your impending event. Keep on reading to find out our favourite makeup and outfit combinations featuring BB and Illamasqua for RY.
Outfit #1 – Summer Party-Ready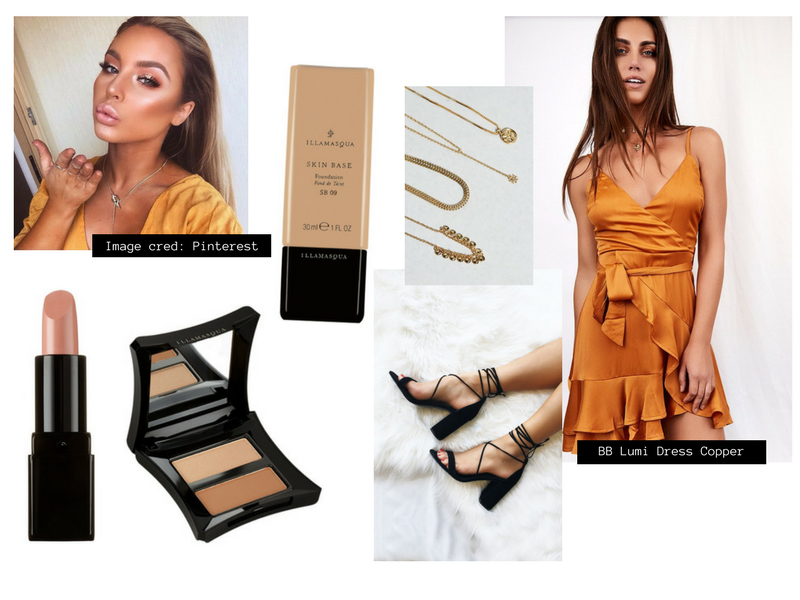 Summer has hit here in Australia, and the temperature is slowly but surely creeping up. We can only guess that, come January, we'll be back to scorching days like we had to suffer through last summer. One of the positives of the warmer weather, though, is summer parties! Head out for midday drinks with friends or to a tropical beach location if you happen to be seaside like us.
Hot days mean flawless skin, a deep tan and a beautiful, radiant glow. If summer isn't exactly enhancing what mumma gave you (i.e., you burn like a lobster, because same) then it's all about fakin' it 'til you make it. The Illamasqua Skin Base Foundation is a lightweight yet buildable foundation that will give your complexion a dewy, fresh appearance.
Next, don't neglect the bronzer come summer. We love the Illamasqua Sculpting Face Duo, which features a contour and highlight shade. Swirl your powder brush in the darker hue and apply liberally to the cheekbones, forehead and anywhere else that needs a little colour. Then, take your highlighting shade on the other side of your contour, focusing it on the tops of the cheeks, chin and inner corners of the eyes. Finish your makeup look off with a pale nude lipstick that just screams summer vibes, such as the Illamasqua Glamore Lipstick in Tease.
Hands-down our must-have dress for summer (promised to be the focus of all our going out looks between now and February), Beginning Boutique have knocked it out of the park with the Lumi Dress Copper ($84.95). With ruffled edging and a tie waist, this light, silky dress looks stunning on everyone. Pair with the Windsor Smith Idina Black Suede ($149.95) heels, which feature a unique corded tie-up detail. Finally, give the outfit a touch of luxe with the Cryptic Necklace Set Gold ($39.95).