As the beauty industry continues to grow at an exponential rate, it's amazing to see a heap of Australian-owned makeup, haircare and skincare companies break into the biz. From natural brands using our coveted natural resources, to innovative, trend-based cosmetics brands and more, it's no lie that us Aussies are killin' it.
7 Australian-Owned Beauty Brands We're Loving
To celebrate Australia Day, we've rounded up 7 of our ultimate favourite Australian-owned beauty brands. If you're all about supporting homegrown businesses, these are the products you'll want to stock your beauty kit with in 2018.
KORA Organics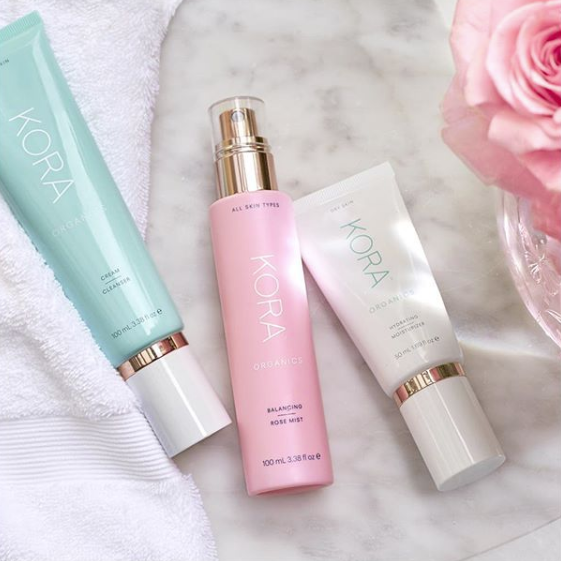 KORA Organics is an all-natural, cruelty-free skincare brand that's proudly Australian-owned. Wanna know who it's owned by? Um, none other than Aussie supermodel and mogul Miranda Kerr. The model wanted access to skincare that would keep her complexion healthy despite the demand of her job, which requires a new face of heavy makeup on the day-to-day. After struggling to find the right products, she instead set out to develop her own.
Hit products: One of the best ways to try KORA for the first time is through a Three-Step System, which are packs tailored to each skin type. They all include a cleanser, toner or mist and moisturiser, which create the pillars of your skincare routine. Whether you're oily, dry or sensitive, there's one for your unique complexion.
Bloggers are currently loving the KORA Organics Balancing Rose Mist, a light facial toning mist that will assist with collagen production and will provide environmental protection. If your skin is on the dry side, a fan fave is the KORA Organics Hydrating Mask. Acne or breakout-prone complexions should try the KORA Organics Blemish Gel.