Trying to save your pennies a little? Don't compromise your makeup addiction! Instead of spending all your dosh on the finer things in life, perhaps it's time to give inexpensive makeup a go. After all, cheap doesn't have to mean cheap quality! You don't know what gems you're going to find…
Enter e.l.f. Cosmetics, the inexpensive makeup brand that manages to skilfully merge high-quality formulas and laughable price points. Laughable, you ask? Yep, it's hard not to let out a (very excited) giggle when you realise you can bag primers, eyeshadows and more starting at just $6.
Are you as shocked as us? Keep reading to find out the most beloved products in the e.l.f. range, and how you can snag a sneaky discount on e.l.f. with RY throughout the month of November.
e.l.f. is the Ultra-Cheap Makeup Brand You Didn't Know You Needed
Like most makeup fanatics, I'm always reluctant to go cheap. It may sound silly, but there's always that back-of-the-mind thought that if you spend big, you'll get fantastic quality products in return. It's definitely unfounded, too–I've spent far too much money on certain products only to be left completely and utterly disappointed. Because of this mindset, though, I was in for quite the shock when trying e.l.f. for the first time.
The brand has a pretty big reputation in the industry, but somehow this had flown under the radar, with me dismissing it as a last resort for when I was feeling extra poor. Boy, was I wrong–not only are the formulas of these products creamy, silky and soft on skin, they're crazy pigmented and have excellent staying power. Checking all the boxes, e.l.f.!
Of course, as in every makeup range, there are hits and misses. Here are the hit e.l.f. products you desperately need–even if you're a high-end makeup snob like me.
e.l.f. Cosmetics Blush ($6)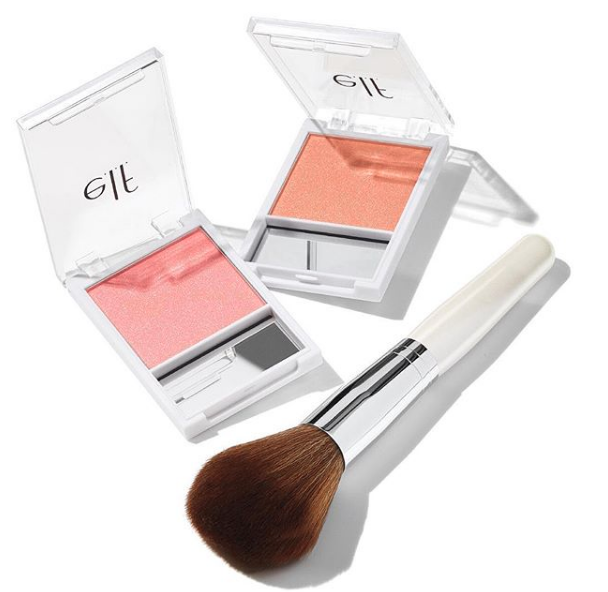 When it comes to blush, I tend to wear the same one day-in, day-out. If you're spending upwards of $40 on a blush, this mentality makes sense–it's simply too expensive to pick up any other shades. That's the beauty of cheap (yet quality) makeup, though! The e.l.f. Cosmetics Blush will set you back no more than your daily iced latte, meaning it's perfectly acceptable to pick up this steal to add to your collection, or even splurge on every shade.
The formula of these blushes is surprisingly blendable, and goes on with a hit of pigment, meaning you really only need one swipe. If you love the doll-faced look, layer the powder onto your apples a few times, brushing backwards slightly towards your hairline. Of the shade range, we adore 'Shy'–the pretty, pink colour is an amazing dupe for a few well-known (and pricy) favourites. Another stunning hue is 'Glow', a peach with slightly shimmery reflects.