Halloween is rolling around quickly, and before you know it, it'll be the big night (even though we're still in denial that it's October). With just days to prepare for any festivities on the social calendar, busy gals around the nation are gasping in pure shock and horror. Take a deep breath–thankfully, we've got the answer.
Everyone has moments of pre-event panic, especially if work, home life and any other commitments have left zero room for nuanced preparations. Instead of expressing a tacky costume from some boutique in the depths of the internet, we guarantee you can come up with a whole variety of last minute Halloween costumes, using stuff you already own.
Keep on reading to find out five last minute Halloween costumes perfect for even the most frantic of partygoers.
Last Minute Halloween Costumes For the Busy Woman
Wednesday Addams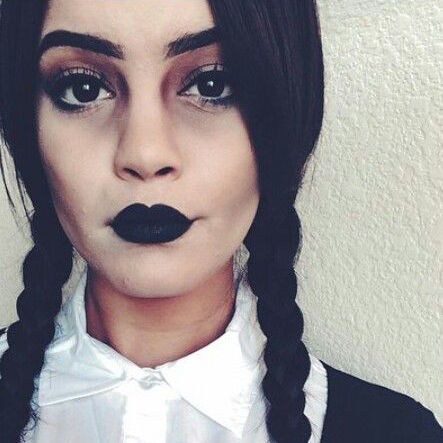 Every Halloween-obsessed kid has seen The Addams Family movies at least once or twice, meaning you've definitely experienced the sombre, cynical Wednesday Addams in all her glory. This is who I aspired to be as a youngster, people–just let that sink in. All slightly terrifying role models aside, Wednesday is a sardonic, gloomy young girl who fits into her oddball family with ease.
If you're looking for last minute Halloween costumes, this is a safe bet. Just a few accessories and a bit of makeup will allow you to transform into Wednesday (and don't forget an attitude adjustment–think of dead baby animals, or something equally as morbid).
To begin your costume, you'll need a black cardigan-skirt combo and a white button down. Pair these together to create Wednesday's iconic bad schoolgirl get-up, or dig out that collared black dress we all know any true Addams fan has sitting in their wardrobe.
Then, part your hair down the centre using a fine toothed parting comb. Gather hair on either side and plait, securing at the end with a clear hairtie. For some finishing touches, you can pop on a little black lipstick like the above, or simply go a few shades paler than usual with the foundation–Wednesday is a (ghostly pale) kid, after all, and didn't wear any makeup in the movies.