You've probably seen serums popping up everywhere over the last couple of years – all promising to deliver amazing results to your skin. It's surprising then that many people don't know where they should be using a serum, when to apply it in your skincare routine and what the actual benefits of a serum are. Keep reading below to find out all the information you need on face serums.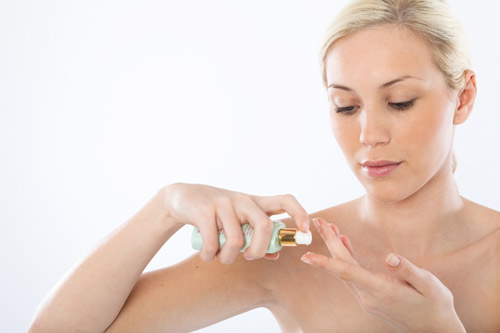 What is a Face Serum?
You know that it's good for your skin, you know you can apply it on your face but what is the actual definition of a "face serum"? It's skincare that's packed with goodness, basically. This goodness can include powerful active ingredients such as hyaluronic acid,  vitamin C, glycolic acid, Idebenone & coq10 that help to replenish moisture levels, plump skin and reverse the visible signs of ageing. You're probably thinking your moisturiser would have you covered in regards to skin hydration – but serums and moisturisers work in different ways. A moisturiser keeps skin hydrated by creating a barrier between your skin and external elements that could dry your skin out. But serums go deeper, they really penetrate the skin to deliver those key ingredients directly into the skin. Serums also don't have thickening ingredients or emollients in them that most moisturisers have, as they are a thinner consistency. This means no extra nasties, and more room for only the best active ingredients. That's why for best results for fighting dehydration and visible signs of ageing you should use a moisturiser AND a serum.
When Should You Use a Face Serum?
You can incorporate a serum into either your morning and nighttime skincare routine – or both! You can never have too many anti-oxidants in your skincare routine. Apply a thin layer of your serum under your sunscreen but after your exfoliator (especially if your exfoliator contains AHA's). This will help protect your skin from environmental elements (UV rays, air pollution) throughout the day. At night, apply your serum before your night time moisturiser for glowing, hydrated skin when you wake.
Why Should You Use a Face Serum?
Now you know what a face serum is and when you can use it – but do you know the full list of benefits? While a serum shouldn't completely replace your night time moisturiser – you can boost your skin health and anti-ageing results dramatically by incorporating a serum into your day and night routine. If you have oily skin – don't shy away from a serum. You can swap out your night time moisturiser if you're finding you don't need that added hydration of both. You might be thinking serums are for more mature skin or for the older demographic but that's not true. Just like you wouldn't wait until you were 50 to start a healthier lifestyle of diet and exercise – the same should go for your skincare. Start incorporating a serum in your 20's to help fight visible signs of ageing. You can also get serums that target specific conditions including brown spots, pigmentation, fine lines and wrinkles, dryness, skin sagging and more.
If you feel like your skincare routine is just not cutting it and there's something lacking – try incorporating a serum.
If you don't know where to start try:
Recommended Serums
Priori Cellular Recovery Serum 50ml $101.15 – Cellular Recovery Serum delivers powerful DNA repair enzymes (ultrasomes,roxisomes and photosomes) and Vitamins C and E to the skin.
Musq Replenish Serum 50ml $59.00 – Infused with Jojoba and Rosehip oil to nourish and soften skin to boost and rejuvenate skins complexion.
Antipodes Apostle Skin Brightening Serum 30ml $59.00 – A water-based serum to help target pigmentation, brighten your skin and restore even tone.
The Jojoba Company CoQ10 Antioxidant Serum 30ml $49.95 – This naturally potent CoQ10 Antioxidant Serum works to energise and revitalise the appearance of skin.
SkinCeuticals Serum 15 AOX 30ml $112.23 – Serum 15 AOX+ neutralises free radicals, defends against environmental damage, and helps prevent the appearance of accelerated ageing.
So if you've been thinking "Do I really need to use a face serum?" it might be time to embrace the benefits and try one today. Start experiencing the most beautiful skin today and realise the full truth and potential behind face serums.
Have you tried a serum before? What's your favourite?
Let me know below.