We recently sat down with Samantha Lee Carbone, the incredible wellness advocate behind The Embracing Health Project, to chat all things beauty, self-care and more. Keep reading to discover all you need to know about the beautiful Samantha Lee, including her health rituals, skincare tips and how she manages keeps those blonde locks looking so fresh!
RY: Hi Samantha! Thank you so much for speaking with us today — we're so excited to hear all about your health, beauty and wellness journey!  Could you tell us a bit about how The Embracing Health Project originated and what it aims to do?
SL: Hi! I am so excited to be talking with you today around health and wellness. I've been working on the Embracing Health Project for a few years, channelling my experiences through competing in body building competitions lead me to find a passion for health and helping others. One day I decided to take the risk and start my own health and wellness business where I was able to educate females around their mind and their relationship with food.
My own personal journey before becoming a health coach  has given me insight into the challenges one encounters when dealing with a negative relationship with food and their body. This enables me to bring a high level of empathy, respect, and understanding to all my clients who I work with. As a Mind, Body and Nutrition Practitioner and a qualified Health coach I can go deeper into my client's challenges and work towards breaking down those barriers to create a healthier lifestyle. I've worked with a range of clients helping them build a better relationship with food and their bodies, while creating self love, abundance and gratitude in their lives.
The embracing health project programs have been carefully put together to help females build a positive relationship with their mind and body through the food that they eat. The program has a wide variety of recipes with wholesome ingredients helping the client understand how to implement and create a healthy sustainable diet, while incorporating  healthy eating habits around food. Self love tools have been implemented into the program to create awareness and guide my clients to recreate positive; happy vibes into their daily routines.
My aim is for as many women as possible to see how important these relationships are to their well being and begin to implement strategies of; self-love, a more positive mindset around food and health and begin to create an abundance of gratitude into their lifestyle. Treating your body with love and care is one of the most important thing you can do. Once you allow yourself to find pleasure around food and find fulfilment within; you will find happiness and live more freely in life.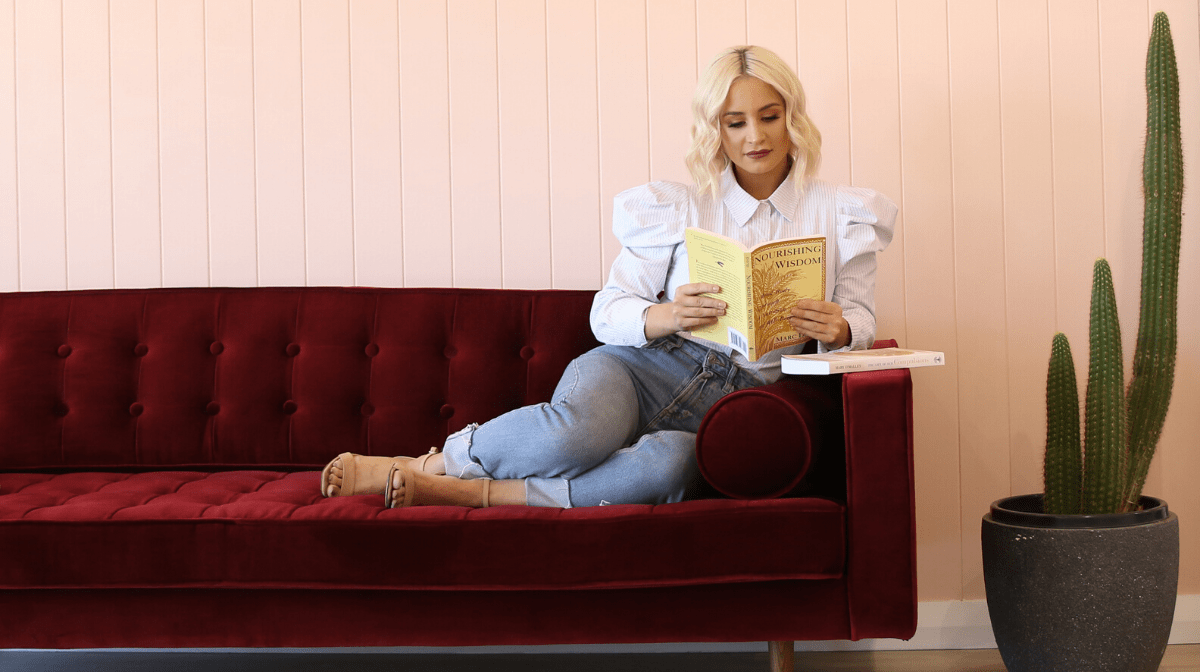 RY: You're a health coach, entrepreneur, super mum and now author – do you make time in your busy schedule for self care? What practices do you use?
SL: Yes, life is busy and crazy at times but being a conscious mother is very important to me while prioritising my health and well being. I find meditating for 20 minutes in the morning helps me to be more mindful and reminds me to appreciate all the joys in life that I am given. This is followed by a stroll down the park with my baby girl Siara Fay, she loves to feed the ducks and spend quality time with me. This is my favourite time of my day.
Life can be challenging at times, working from home with a 10 month old does come with many benefits as I get to see all the new milestones she accomplishes. Juggling and prioritising work becomes hard at times as I find work days become Siara Fay and mummy days very quickly as when her cute little smile beams over my way I can't help myself but want to give her an abundance of kisses. I do find some days I work at night time when Siara Fay is asleep, this means more quality time together during the day. Practising gratitude, helps me to be thankful for the things in my life and keeps me grounded and centred.
RY: If you weren't a health and happiness coach, what would you be?
SL: I would be living an unhappy life, health and wellness has brought me a fulfilling life. Its hard to picture myself not being a health coach.
I think I would have been working more in interior architecture, which is what I do as well. I find having a passion for two industries keeps me motivated and drives me to be the best that I can be. I love design and would never give that up but I find health and wellness more for filling, when I am able to share my knowledge and impact others' lives I get this satisfied and happy feeling inside. I have a strong passion for helping people, it really does put a smile on my face every day.
RY: You've got a beautiful little girl named Siara Fay, what do you love most about being a mum?
SL: I love being a mum, it just makes you feel on top of the world. Their love an affection is so heat warming and I never knew how much love I had to give until now- its beautiful.
RY: We're moving into cooler weather! What changes do you make to prepare your skin and hair for the cooler months of the year?
SL: At the moment I am obsessed with the The Weleda Skin Food moisturiser on my hands, during this colder weather. Constantly washing my hands and sanitizing over the last few months has dried out my skin and I am finding this product to be working wonders on my dry patches.
RY: With everything currently going on, how are you staying motivated during isolation? Is self care playing a bit part in this?
SL: Staying active and most importantly staying positive has been really important in keeping my mind healthy during this time. Implementing a new daily routine was hard at the beginning but is also the key to staying motivated. Waking up, meditating, followed by my daily walk,  followed by some yoga in the lounge room is now at the top of my new daily routine and self care.
RY: Can you tell us how you balance a healthy diet with being busy? Do you make exceptions for a little indulgence?
SL: Being organised is one of my favourite tips. Making sure you have meals prepared in the fridge for you to easily access will help you to make healthier choices. I find making some quick and easy meals like overnight oat and berry bowls, or home made dips or healthy lunch snacks and keeping them in the fridge or freezer means less takeaway and more nutritious healthy meals at home. Of course, everyone should find pleasure around food. This is what I teach, indulging should come with pleasure and happiness around food with no negative emotions attached. So yes I hope everyone enjoys something they really love to eat.
RY: What is your go-to beauty brand?
SL: I love Dermalogica, it keeping my skin routine effortless and my skin radiant.
RY: If you could only wear one makeup item for the rest of your life, what would it be? Are you comfortable wearing no makeup?
SL: I love makeup but don't wear it unless I am heading out to a work meeting or have an event. I feel confident in my skin to wear my skin bare most days. I do love a tinted moisturiser for that effortless look.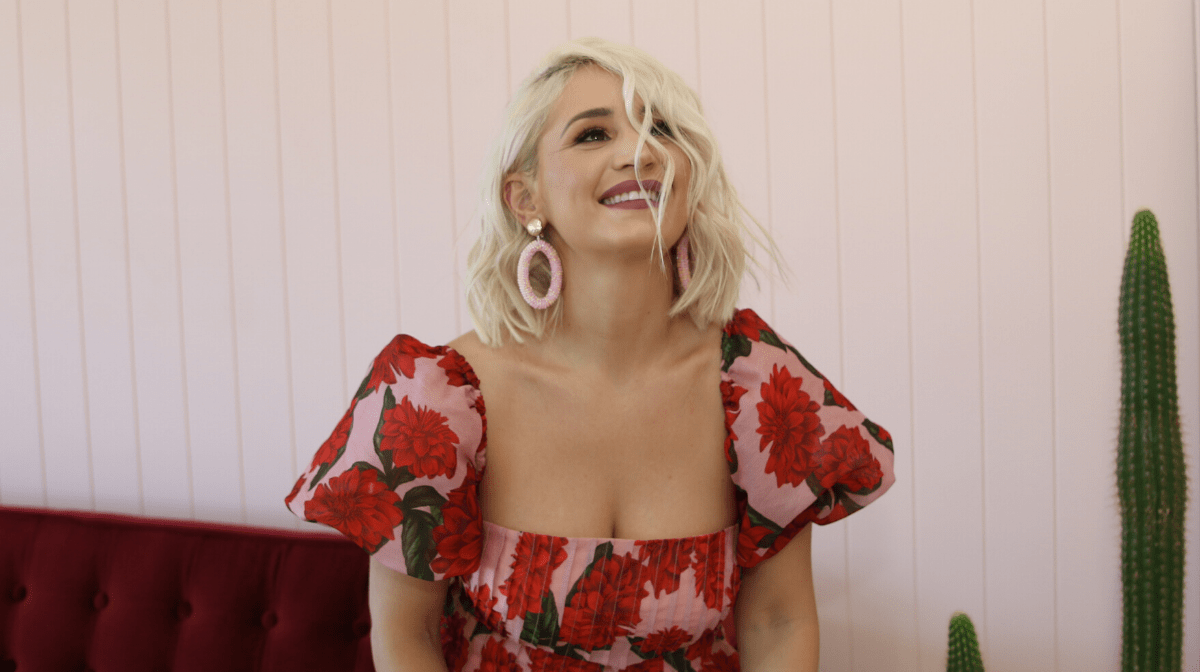 RY: We're all in envy of your gorg blonde locks! How have you managed to maintain the colour during isolation? 
SL: Olaplex is one of my rituals to keeping my blonde locks lush and healthy, I wouldn't use anything else.  I have the whole range. Remember to fill your diet with heathy nutritious food sources and drink plenty of water. When you "love yourself from the inside out" your body will reward you- yes with healthy hair!
RY: Do you have any quick, easy hair styling tips for our busy readers?
SL:  Yes, rock out the messy locks even a few days after its been curled. I am obsessed with effortless looking hair look at the moment. Styling with my favourite ghd is a must, leaving my curls looking lush and bouncy.
RY: Is there one proud moment in your career that stands out from the rest? If so, what is it?
SL: Yes, writing my book Love Yourself From The Inside Out which is launching now. So excited  to watch so many individuals using my recipes for their friends and family. My recipes have been certified and approved by an accredited dietitian a member of dietitians Australia.
RY: We're going to do a few rapid-fire questions now if that's okay with you! What's your guilty pleasure?
SL: I love Caramello chocolate.
RY: Book you can't put down?
SL: I recently read Get Your Shit Together by Sarah Knight.
RY: At home ritual?
SL: Cuddling with my baby girl in the mornings.
RY: 'Girlboss' inspiration?
SL: I absolutely love Steph Claire, love her vibe and what she's about.
To learn more about the gorg Samantha Lee, head over to her Instagram @samanthalee.carbone or visit her website www.samanthaleehealth.com
---
---
---