Mineral makeup is a trend definitely sweeping the beauty-sphere, especially as we've become more conscious of what's in our day-to-day products, and the effects these ingredients can have on our skin. As opposed to heavy, thick formulas that can tend to overwhelm the skin, mineral makeup provides light coverage and is non-comedogenic, making it safe for a huge range of concerns.
asap Pure is the Range Blending Makeup and Skincare
Although there are quite a few mineral makeup brands swirling around, (think Inika, Jane Iredale and Youngblood) we've never seen a skincare company come out with a makeup range…at least, until asap Pure was launched!
The brainchild of hit cosmeceutical skincare brand asap Skin Products, asap Pure has been created to fill a gap in the market for skin-friendly cosmetics that actually deliver complexion-perfecting benefits. If you haven't heard too much about their newest offshoot, we're here to give you all the juicy details.
Keep on reading to find out all about the hit products in the asap Pure range, and how you can add them into your daily makeup routine.
asap Pure Skin Perfecting Mineral Foundation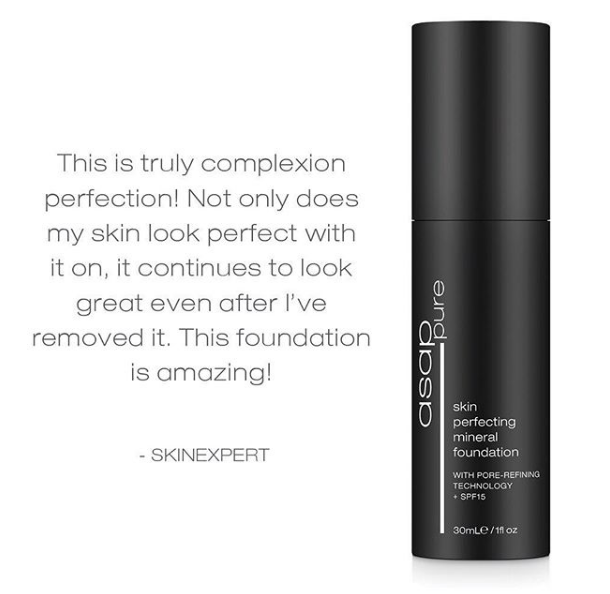 When we think about mineral makeup, usually our first point of call is foundation. Although mineral products can actually encompass heaps of different formulas, foundation is what has made this beauty trend so popular. Our complexions can be reactive, so mineral products are fantastic at preventing against irritation and sensitivities whilst still covering up any unwanted imperfections.
The asap Pure Skin Perfecting Mineral Foundation is a lightweight, natural coverage product that creates a stunning base for the rest of your makeup. This formula blurs pores and fine lines for an airbrushed look without all of the heaviness of a full coverage foundation. SPF 15 and a multitude of vitamins and antioxidants help skin to 'breathe' throughout the day, ensuring it stays protected and hydrated.