Have you always dreamed of longer, thicker hair to envy that of supermodels and Disney princesses? We know the feeling…clearly, many of us were not blessed with the same genetics as Rapunzel or her modern-day equivalents (practically any VS model, duh).
How to Achieve Longer, Stronger Locks With Grow Gorgeous
Thankfully, expert haircare brand Grow Gorgeous are here to make all of your wishes come true. With a range packed full of densifying and lengthening products, they're your key to unlocking healthier hair than ever before.
If you're not familiar with the brand or how their products work, don't stress–unlocking the benefits of Grow Gorgeous is easy! Keep reading to find out our favourite products from the range, and how you can use them as integral parts of your hair growth journey.
Growth Serums
Grow Gorgeous are all about the power of a hair serum, and why shouldn't they be?! As we've been made aware by serums in our skincare, they're a great way to deliver potency and real results without watering down key active ingredients.
If you're serious about spurring on hair growth and boosting density, the Grow Gorgeous Hair Density Serum Intense is the answer to all your problems. A whole range of ingredients, including glycine, zinc and even caffeine, help to encourage growth and add thickness to your locks. The combination of Acetyl Tetrapeptide-3 and Clover Flower Extract Active Complex has been found to visibly increase hair density by 13% over four months, whereas Bio-Active Pea Sprout speeds up growth by 78% in just two weeks.
Who should use it: Serious hair-growth aficionados really looking to improve their length and volume.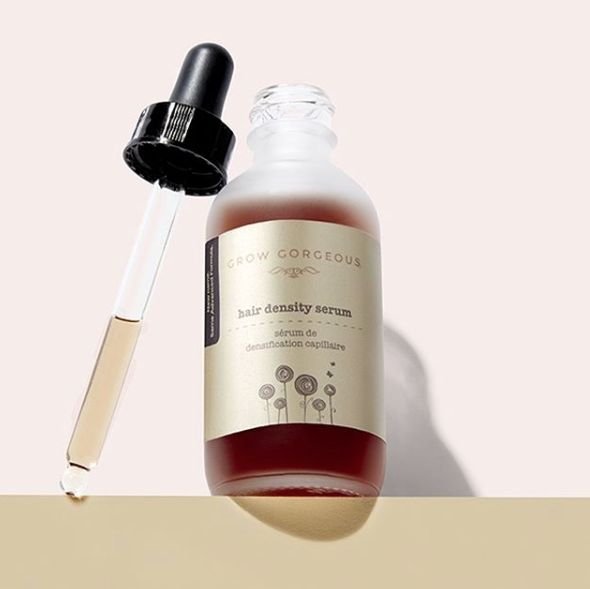 Another favourite, albeit a little less potent, is the Grow Gorgeous Hair Density Serum. A similar line-up of ingredients to the Intense Serum work together to boost volume, length and thickness. Apply either one of these products daily, using the dropper to deliver 20 drops to the scalp.
Who should use it: Anyone wanting to bolster hair growth and improve density.