April is well underway, so it's time for another Horoscope Beauty How-Tos segment! From March 20 to April 19, Aries is in their element. So you can truly unlock your full potential during your birth month, we've rounded up a few handy hints that will help you translate your horoscope into your beauty regimen.
Keep on reading to discover everything Aries beauty lovers need to know this April, including makeup must-haves and synergistic skincare picks.
Horoscope Beauty How-Tos: Aries
Aries is a feisty fire sign, generally extroverted and a total people person. Aries are also known for being trendsetters and trailblazers, so it's not surprising if you're usually the first of your friends to test out a new beauty craze.
You also love your individuality, and most likely have quite a unique sense of style. Aries aren't afraid to stand out from the crowd and be themselves. Feel like you aren't really unlocking your full Aries potential and trying new things? We've rounded up some beauty must-haves that will encourage you to step out of the box.
Colours: Red and Orange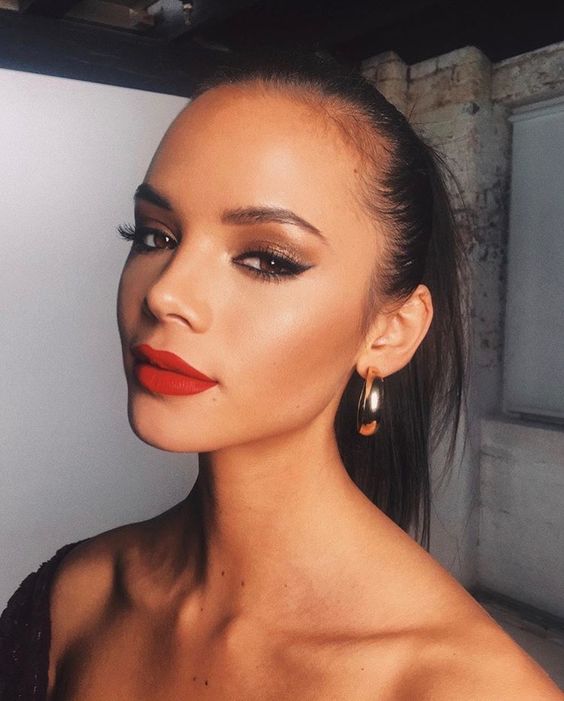 In true fire sign form, an Aries 'power' colours are red and orange. These are the hues that will give you strength and make you feel totally at home in your own skin. Perhaps the most traditional yet effective way to wear red or orange is on the lips, with a highly-pigmented lipstick shade of your choosing. Red lips convey power, beauty, sultriness — practically every strong, positive trait. Use 'em to your advantage on a day where you're feeling a little off or down to give you a boost.
If you don't already have a go-to red in your collection, this is a non-negotiable addition to make during April, Aries! There are so many to choose from, so we've rounded up our favourites. To stick with your fire sign roots, we recommend going for a warm-toned red rather than a blue-toned one.
The Bite Beauty High Pigment Lip Pencil in Toast is a gorgeous fire engine red, and glides creamily onto the lips for amazing lasting power. If you want something that borders on neon bright, try the Bite Beauty Matte Creme Lip Crayon in Rosehip. Finally, the Antipodes Lipstick in West Coast Sunset is a slightly sheerer formula with a gorgeous, lip stain-esque look to it — perfect for days where you want to rock the red whilst remaining natural.