It's easy to fall in love with so many beauty products! The packaging, the gleam, the pigments… But sometimes you can be caught up in the hype of products that sadly don't live up to their name. That's why it's good to see reviews on products before you buy them – and even better, see people you love using them.
This month we've spotted a lot of Beauty Bloggers loving…. Jane Iredale!
With this beautiful, natural, mineral makeup that offers flawless coverage and a huge range of products, it's easy to see why Jane Iredale is a hit!
The first makeup line to contain skincare benefits, Jane Iredale stays ahead in the Mineral Makeup game with innovative and fresh products suitable for any age or occasion.
Check it out:
Bloggers Loving Jane Iredale
Ally Hayward – Founder of Fashion and Fitness website Substance Blog number one pick for vegan and cruelty free makeup is Jane Iredale. See her full list here.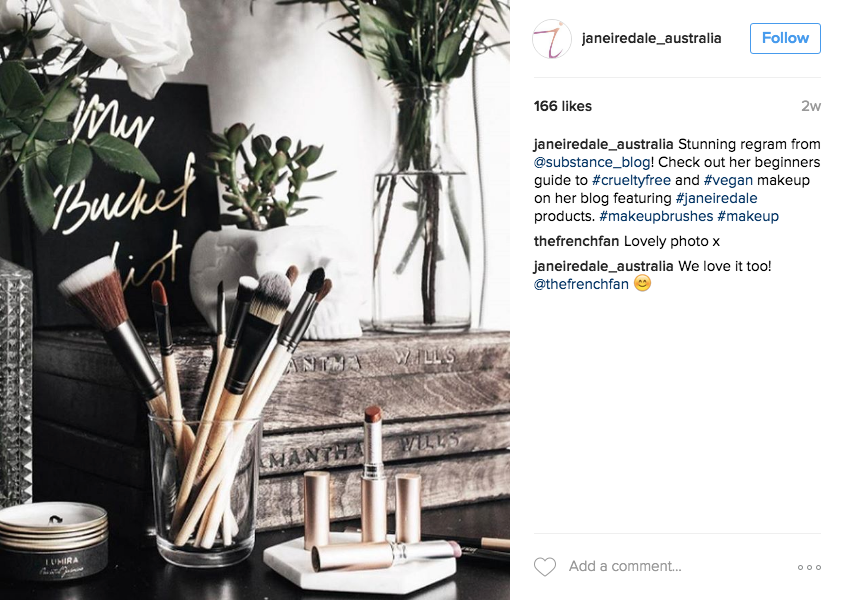 WA Beauty Blogger Diary of Ange is loving her Naturally Matte Eyeshadow Palette and Glow Time!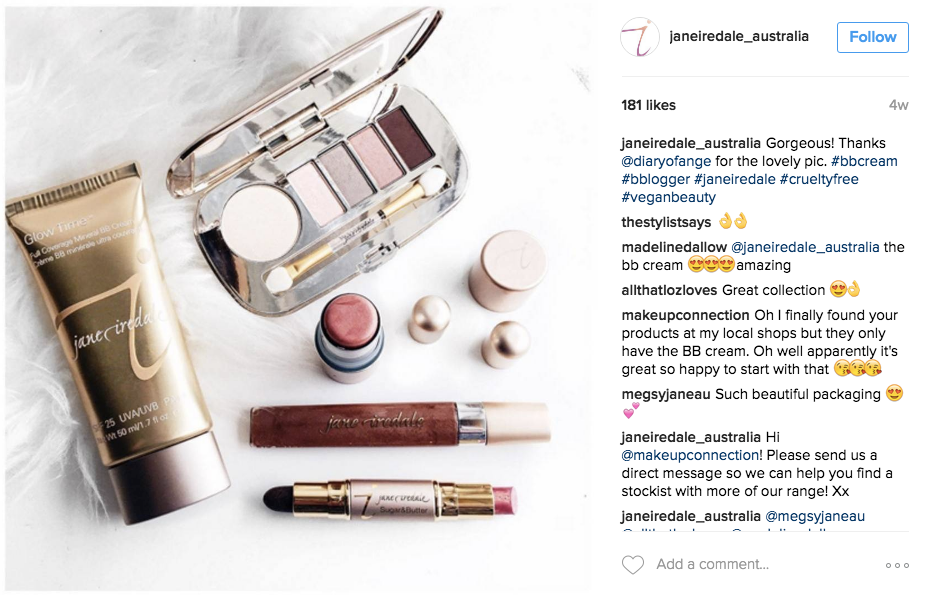 Natural Beauty Expert Liv Lundelius  gave us a glimpse of her Jane Iredale collection in this stunning flat lay featuring the PlayOn Lip Crayon, Flawless Blush and Moonglow Quad Bronzer.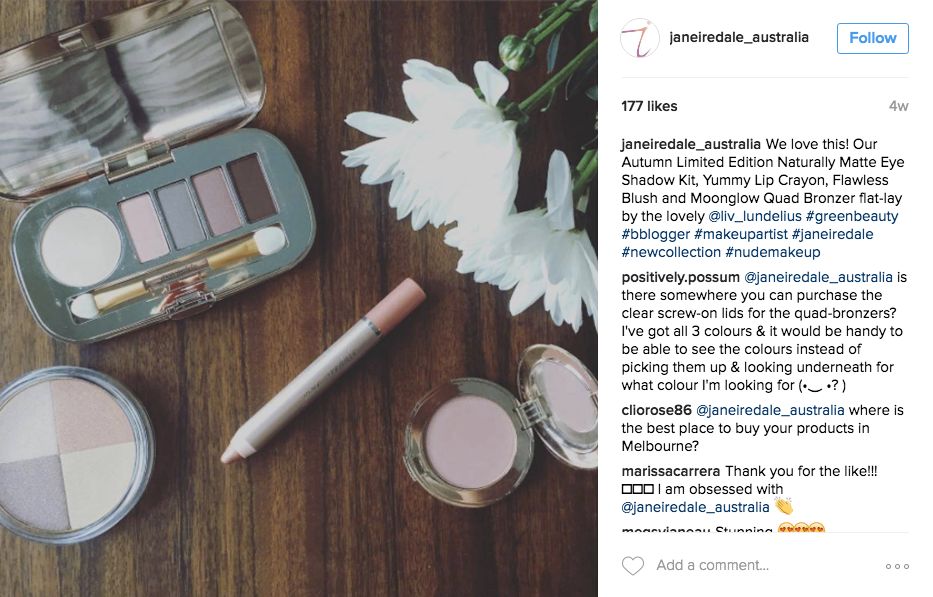 Australia's Next Top Model favourite and now David Jones Ambassador Montanna Cox is also showing the love for Jane Iredale. Below she's featured wearing the Intouch Highlighter for that perfect glow this Autumn!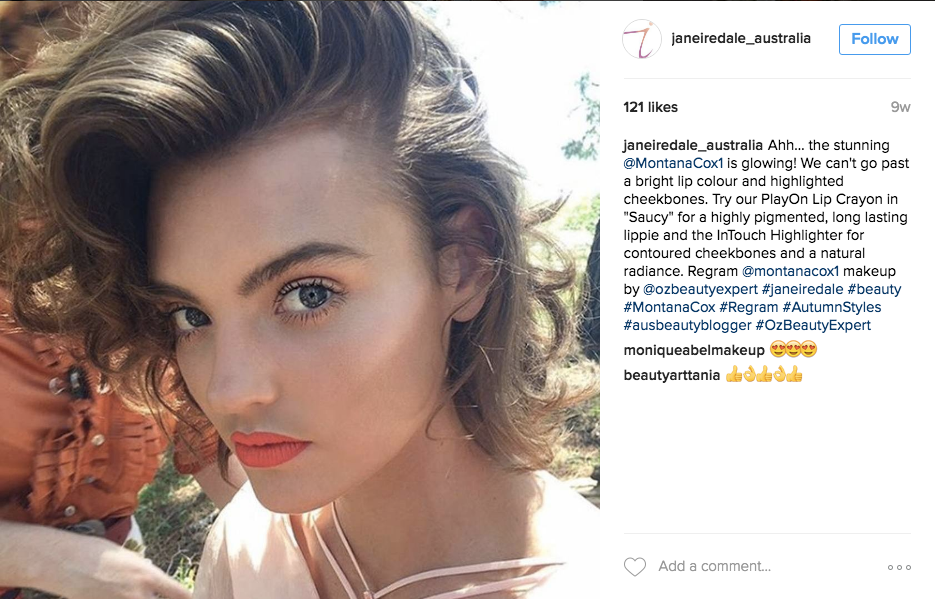 Molly Greaves @mollyx recommends Jane Iredale for it's cruelty free certification, vegan friendliness and of course that packaging that photographs flawlessly!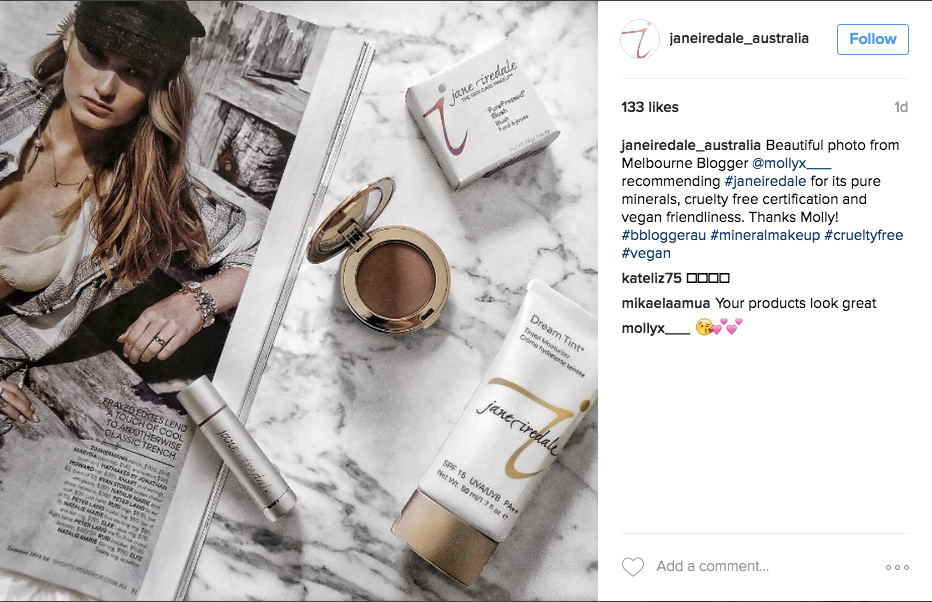 What's your favourite product from Jane Iredale?
Is it the same as the Beauty Bloggers pick?