What are the biggest beauty trends on YouTube, and who are the most popular 'Beautytubers'?
The world's most popular beauty influencers gain millions of views, subscribers and interactions on YouTube, with makeup tutorials teaching us everything from how to master the cut crease, to perfecting no heat curls. 
From product reviews to step-by-step tutorials, YouTube is full of thousands of beauty influencers teaching us their most sacred beauty tips, all from the comfort of their bedrooms.
The team at RY has analysed data to reveal 2021's biggest 'beautytubers', and to reveal the beauty trends which are being searched for the most on the platform. 
YouTube Beauty Trends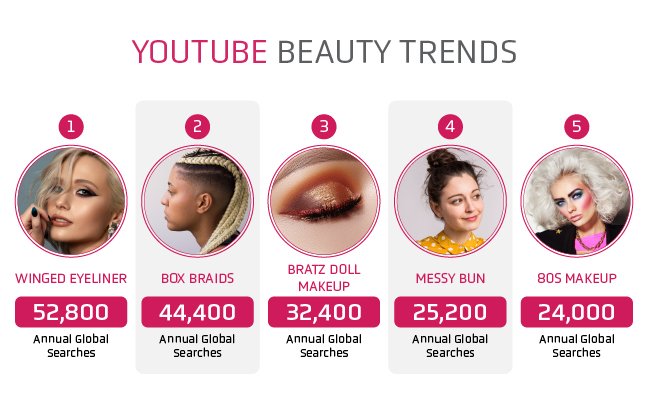 From makeup and skincare to hairstyling and beard trimming there are so many different beauty techniques with tutorial videos. We have discovered the annual number of YouTube searches of many different tutorials to discover which are the most favoured, as many are more popular than others.
1 – Winged Eyeliner, 52,800 Annual Global Searches
Winged eyeliner is where the eyeliner flicks up on the outside edge of the eye to create a pointed wing shape. As well as the traditional black style there has also been a recent trend for bright coloured winged eyeliner, such as neon orange or lime green. There were 52,800 searches for winged eyeliner tutorials in the past year which is over 8,000 more than the next highest ranked beauty trend. This style can be achieved using an eyeliner pen, liquid eyeliner, or an eyeliner brush.
2 – Box Braids, 44,400 Annual Global Searches
The most popular hairstyling tutorial on YouTube in the past year was for box braids, there were 44,4000 searches to comfortably secure second place in the overall rankings. Box braids are a hairstyle known for protecting the hair and being low maintenance for the six to eight weeks they tend to last, while also providing a stylish look. Originating in Africa, box braids have become an increasingly popular style globally, which is reflected by the high search volume. 
3 – Bratz Doll Makeup, 32,400 Annual Global Searches 
For years people have attempted to style themselves like their heroes, whether it be celebrities or sporting stars, but it would now appear that emulating childhood toys is a popular beauty trend too! Bratz dolls were characterised by having almond-shaped eyes and big glossy lips, and this is part of the style that people are trying to replicate. There were 32,400 searches during the past year which puts it into third place in the rankings. 
4 – Messy Bun, 25,200 Annual Global Searches 
The messy bun is currently one of the most popular hairstyles at the minute and that is reflected by the 25,200 searches for tutorials to help people create the style for themselves. The difference between a normal bun and the messy bun is that the messy bun is messy but as obvious as that statement sounds, it is intentional messiness to create a more casual look. 
5 – 80s Makeup, 24,000 Annual Global Searches
Everything comes back around in fashion, and four decades later 80's style makeup is back. There were 24,000 YouTube searches for tutorials, which makes 80's makeup the fifth most popular beauty tutorial trend. Despite being a very broad sounding style incorporating a whole decade of looks, 80s style makeup is generally characterized by bright bold colours around the eyes and lips amongst other elements. 
The Biggest YouTube Trends in Australia
Whilst we have established which beauty tutorials are trending across the globe, it is now time to see which tutorials Aussies are viewing to get fresh new beauty ideas. From Brisbane to Perth we have looked at Youtube search data from across the whole of Australia to discover the most popular trends.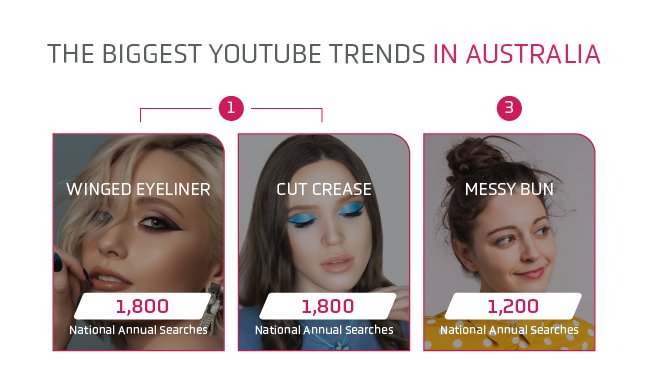 1 – Winged Eyeliner, 1,800 National Annual Searches 
Just like the rest of the world, Winged Eyeliner Tutorials are the most searched by Australians on Youtube. Aussie superstar celebrities such as Kylie Minogue and Isla Fisher have been spotted with this style of eyeliner, which shows that its popularity is resonating throughout society.
2 – Cut Crease, 1,800 National Annual Searches 
In joint first place in the rankings is the cut crease tutorial which also has 1800 searches on Youtube. It would appear that finding out how to master the cut crease is more important in Australia than across the globe, as globally it only ranked ninth compared to being top of the pile down under. 
3 – Messy Bun, 1,200 National Annual Searches 
The messy bun is third in the rankings and is also the last style that has tutorials searched over 100 times a month on Youtube.  Two time Oscar winner and seven-time nominee Cate Blanchett are one of Australia's finest actors, and she has been seen to rock a messy bun on red carpets.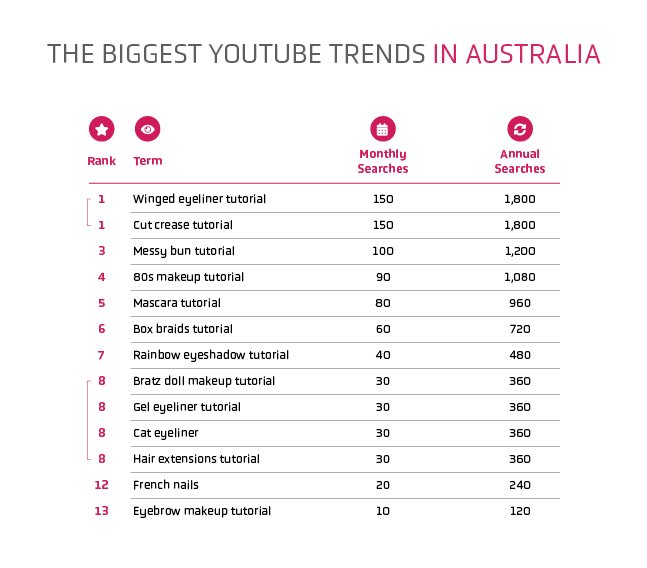 Most Popular Beautytubers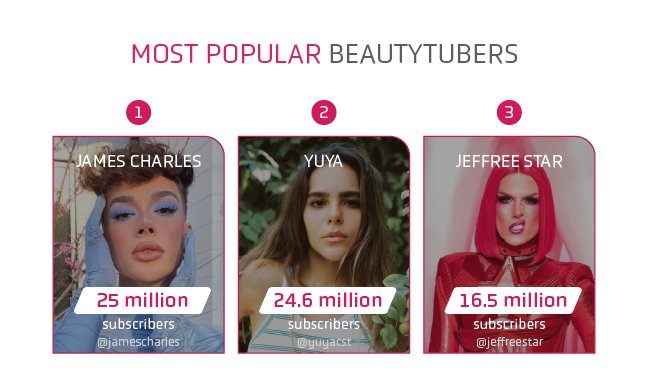 Some of the YouTubers with the biggest presence on the whole site are beauty YouTubers, and many have millions of subscribers who are interested in consuming the content that they create. We have looked at the number of subscribers for each of the most popular beauty YouTubers to determine which are the most popular.
1 – James Charles, 25 million subscribers 
The American beauty star has the most subscribers with around 400,000 more than the second-ranked star. He has grown to one of the biggest social media stars over the past five years, due mainly to his popular makeup tutorials.
2 – Yuya, 24.6 million subscribers 
The second-ranked beauty influencer is the Mexican superstar Yuya, who has 24.6 million subscribers on her channel. Yuya's presence on YouTube started over a decade ago after she won a makeup styling contest as a teenager, and in that time her popularity has massively increased to get her to this level.
3 – Jeffree Star, 16.5 million subscribers
Jeffree Star ranks in third place, with 16.5 million subscribers. Star is best known for being an exceptional makeup artist and owner of his own range, Jeffree Star Cosmetics, with millions of people engaging with his beauty content.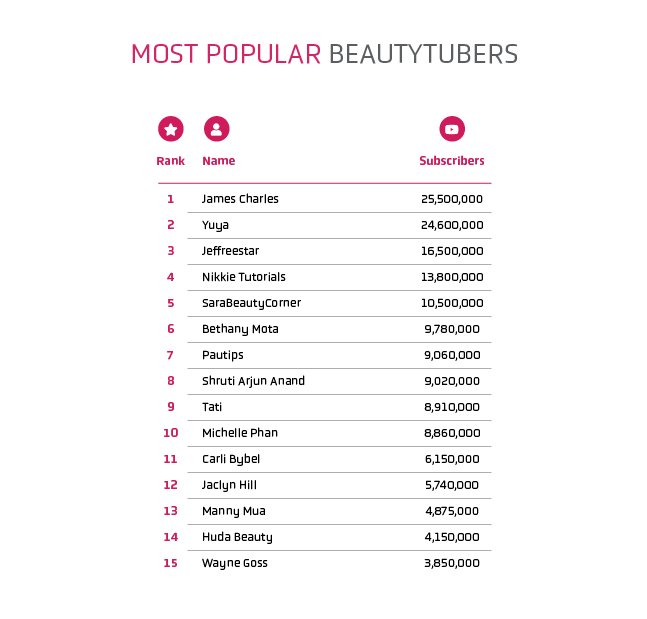 As we can see, both in Australia and around the world, beauty tutorials are very popular, and as a consequence beauty YouTubers are gaining a higher celebrity status all the time. 
Eyeliner tutorials are the biggest trend of the past year, and five of the top ten most searched tutorials are eye makeup related.
When it comes to the most popular YouTubers in the world of beauty, it is very close at the top between the two most subscribed stars, sharing almost 50 million subscribers between them. Moreover, the entire top ten ranked beauty tubers had over 8 million subscribers each, which goes to show they are a very popular group of influencers. 
Methodology
To choose which beauty trends and YouTube influencers to gather online search data for, we looked through a plethora of articles to see which trends and influencers are currently being talked about the most. 
Online magazines such as Glamour helped us identify what are the biggest current trends that people are talking about.  Similarly, websites such Feedspot enabled us to determine which YouTubers are the most popular within the beauty industry right now.
All search data was sourced from Ahrefs Keyword Explorer as of April 19th 2020. For each trend and individual, we took average monthly global searches for the last 12 months and added each month's data to get the average annual search data.