Stressing out over what to buy your nearest and dearest this Christmas? Well, everyone needs great skincare products in their life, so give the gift of great skin with a Dermalogica gift set.
Sort Your Christmas Shopping With a Dermalogica Gift Set
No matter your budget, there's a Dermalogica gift set your family members and friends will adore. You can choose from full size sets or travel size essentials, and you may even want to stock up on your own Dermalogica faves, as there's substantial savings to be had!
Keep on reading to find out which Dermalogica gift set will suit your gift-giving needs this Christmas season.
Full-Sized Sets
AGE Smart® Daily Defenders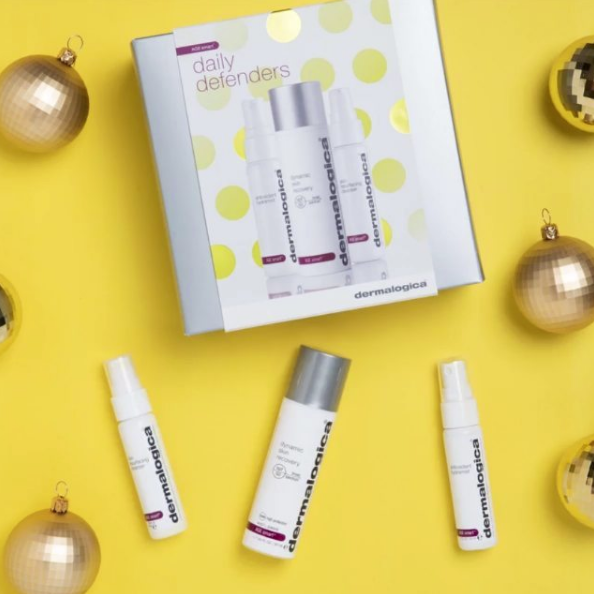 If all you want for Christmas this year is smooth, glowing and youthful-looking skin, then look no further than the Dermalogica AGE Smart Daily Defenders holiday gift set. This daily defence trio features everything you need to resurface, restore and protect your skin against accelerated ageing.
Dynamic Skin Recovery SPF 50 50ml — Protect skin from sun damage, the number one cause of skin ageing, with this age-fighting, ultra-hydrating broad spectrum moisturiser.
Pro tip: Use all year 'round, not just in the summer months. Even when it's cloudy outside, we're still exposed to harmful UVA and UVB rays!
Skin Resurfacing Cleanser 30ml — Achieve superior smoothness and brighter skin with this age-defying exfoliating cleanser, that helps re-texturise and remove dulling surface debris.
Pro tip: Since this cleanses and exfoliates, you can skip exfoliating!
Antioxidant Hydramist 30ml — Quench your thirsty skin with this flash-firming mist, that also creates an antioxidant shield to help protect against skin ageing causes from the sun and pollution.
Pro tip: Use throughout the day to refresh your makeup. Keep this baby by your desk for handy reapplication!
AGE Smart® Anti-Ageing Power Trio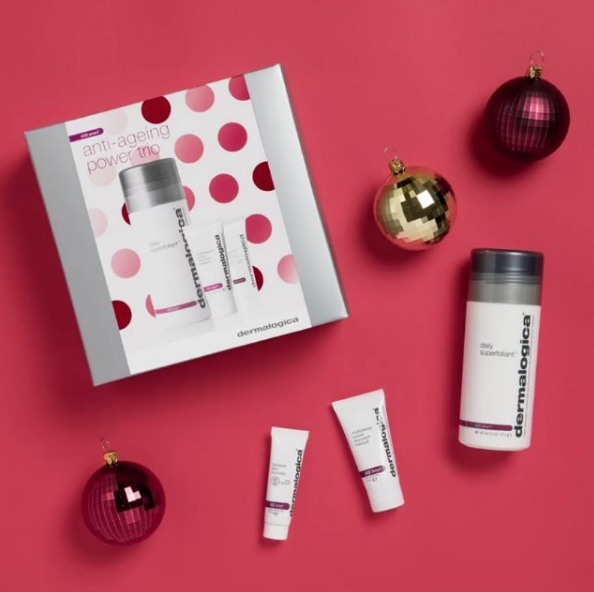 Love the feeling of clean, smooth skin? Hate the idea of ageing? Well, say hello to these powerful top sellers from Dermalogica's AGE Smart line. Jam-packed with age protecting vitamins and age reversing peptides, the Dermalogica AGE Smart Anti-Ageing Power Trio will soon smooth away the appearance of skin ageing.
Daily Superfoliant 57g — This anti-pollution, charcoal powder-based exfoliant delivers your smoothest skin whilst fighting against the triggers known to cause lines and wrinkles.
Pro tip: Use prior to makeup application to create a flawless canvas for your foundation.
Multivitamin Power Recovery Masque 15ml  — Get your party glow on with this ultra-replenishing masque packed with vitamins A, C, E and F.
Pro tip: Leave on overnight and wake up with radiant and refreshed skin.
Dynamic Skin Recovery SPF 50 10ml — Hydrating, nourishing and protective, this broad spectrum daily moisturiser with SPF 50 is a must-have, no matter what the weather is like.
Pro tip: Use to soothe partied-out skin.
Travel Sets
AGE Smart® Lip Smoothing Duo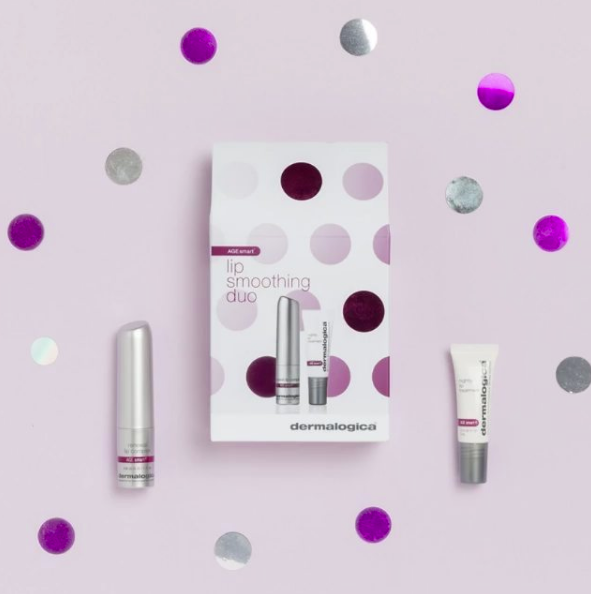 The ideal stocking filler for her, this dynamic duo works day and night to deliver next level conditioning, smoothing and lip plumping. Plus, both products in the Dermalogica AGE Smart Lip Smoothing Duo will take care of any signs of ageing around the mouth.
Renewal Lip Complex 1.75ml — This moisturising daily lip treatment helps smooth and restore lips while minimising the appearance of contour lines.
Pro tip: Use as a smoothing primer before lipstick application.
Nightly Lip Treatment 4ml — Say goodnight to lip lines with this powerful, rich formula that helps smooth the appearance of laugh and feather lines on and around the lips while you sleep.
Pro tip: Massage into skin on and around the lip area using the massage applicator.
Daily Skin Health Double Cleanse Duo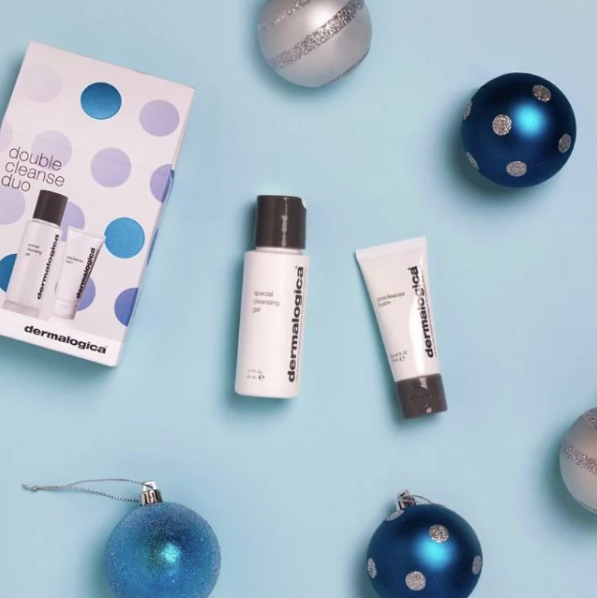 Experience a much-needed professional grade clean this party season with Dermalogica's famous 'Double Cleanse', the stepping stone to healthy, glowing skin. The Daily Skin Health Double Cleanse Duo combines two unique formulas that work harmoniously to lift away dirt, impurities and makeup like no other combination of products.
PreCleanse Balm 15ml — Step Zero. This water-activated, balm-to-oil cleanser melts away excess oil, hardwearing and waterproof make-up, sunscreen and product build up so that the rest of your routine is more effective.
Pro tip: It even removes waterproof mascara and eyelash glue.
Special Cleansing Gel 50ml — Step One. This bestselling, soap-free foaming cleanser thoroughly removes impurities, as well as calming and purifying the skin without stripping or drying.
Pro tip: Use a small amount and lots of water – a little goes a long way!
---
---
---