Amongst all the hype surrounding Halloween and Labour Day Weekend, October also signals an extremely important cause–Breast Cancer Awareness Month. Even if someone in your family hasn't been affected by this awful disease, we're sure that you know of someone who has, and the devastation that it can create.
October is the perfect month to support this cause and contribute whatever you can to breast cancer research, whether that be money, time or even just awareness. We guarantee there's something everyone can do, even if you're strapped for cash or aren't in a position to volunteer.
Pink Picks Perfect for Supporting Breast Cancer Awareness Month
One amazing, simple way to give back during Breast Cancer Awareness Month is to bring out your pink! We're talkin' pink makeup, clothes and more. This is an initiative that helps to create awareness around the topic, and many companies have joined in by jumping on board. Keep reading to find out our favourite pink beauty products perfect for Breast Cancer Awareness Month.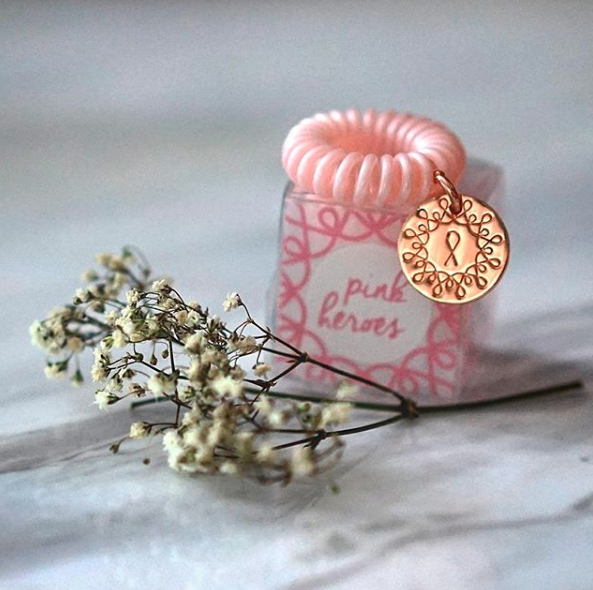 If you've never tried out the Invisibobble, prepare for your life to change. This traceless hair tie is made out of coiled rubber, uniquely designed and shaped to avoid creating unwanted kinks in the hair. It also prevents against tension headaches caused when hair is too tight, and won't cause breakage, meaning hair stays healthy and in-tact. They're also a super cute wrist accessory for when you're wearing your hair loose!
Although the Invisibobble is available in a number of colours, we encourage you to support Breast Cancer Awareness Month with this special pink edition. The metallic baby pink ring is a stunning neutral colour, and hanging off it is a rose gold charm etched with the breast cancer awareness symbol.
Wear your hair in style and contribute to an amazing cause–it's a win win! Invisibobble also donated 20,000€ to a breast cancer awareness charity following the release of this product.