Our favourite hair dryer brand ever, Parlux never disappoints us. It could be because they're the lightest dryer around, or it could be because they're the most powerful hair dryer around, or it could be the range of bright and fun colours. Whatever it is that floats your boat – Parlux is king. Which is why when they announced their new hairdryer – we were more than a BIT excited.
Introducing Parlux Advance Light – the most lightest, most powerful, most advanced Parlux ever.
Keep reading to find out what makes this dryer so great, and how you could WIN one.

Features:
– Futuristic Technology including the K-advance motor for superior styling. This motor promises higher power and a longer life span.
– More Powerful 2200 watt motor
– Lightweight. The weight of all components of the new Parlux have been reduced to create a significantly lighter model.
– Silent. No need for clunky silencing attachments, the inbuilt silencer as well as reduction on clunky parts makes this the quietest Parlux yet.
– Soft touch switches designed from heavy research with hair dressers. Most comfortable switching ever.
– Ionic and Ceramic Technology – no more frizz or fly aways.
– Eco Friendly. Use of only the most high quality, recyclable materials. Your hair is also dried faster which reduces energy usage.
– Two Concentrator Nozzles for focused drying
– Anti-Heating Front Body to avoid neck or hand burns
– 2 speeds/ 4 temperatures
– Stunning colour variety including Black, White, Fuchsia, Ice Blue, Aqua, Red, Violet, Light Gold
HOW YOU COULD WIN
You can win a BRAND NEW Parlux Advance Light in Black + Moroccanoil Volume Pack.
1. Go to http://woobox.com/vhhreg or click the image below
2. Enter your email address
3. Stay tuned to RY Facebook Page for the Winner Drawn FRIDAY 18th NOVEMBER 2016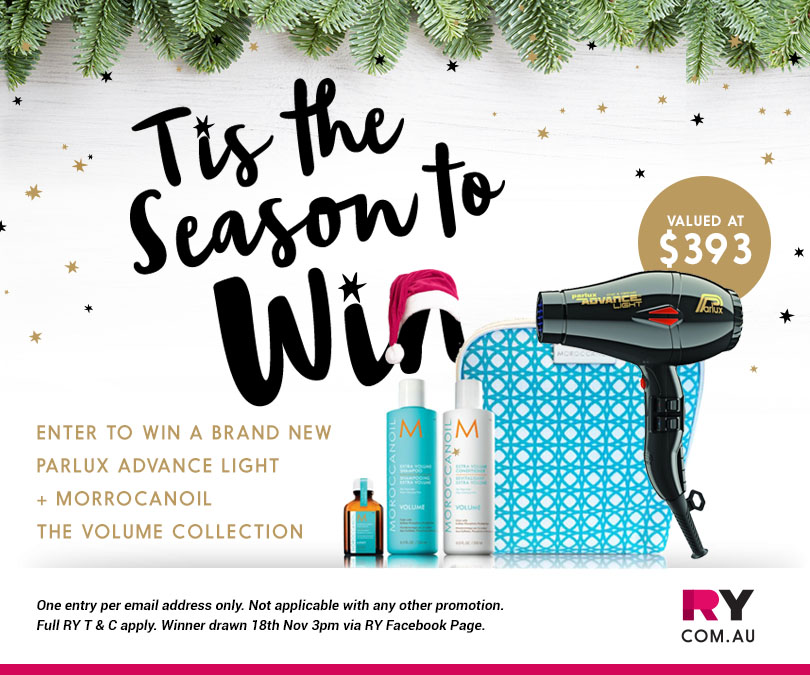 Good Luck!
Let me know below if you've entered…