Hydrate and treat your skin at once with Clinique's revolutionary new line, Clinique iD! Consisting of a range of targeted concentrates designed to be added to your favourite Clinique moisturiser, the range results in a customised product that delivers far more than just hydration. Intrigued? So were we!
Clinique iD- Tell me more!
Creators of the world's first ever line of dermatologist-developed skincare, it's no secret that Clinique know skin. The brand that boasts 100% fragrance-free and allergy tested products is about to take the skincare world by storm yet again with their newest range of personalised skincare: Clinique iD.
A revolutionary custom-blend hydrator and concentrated elixir that targets specific skin concerns – Clinique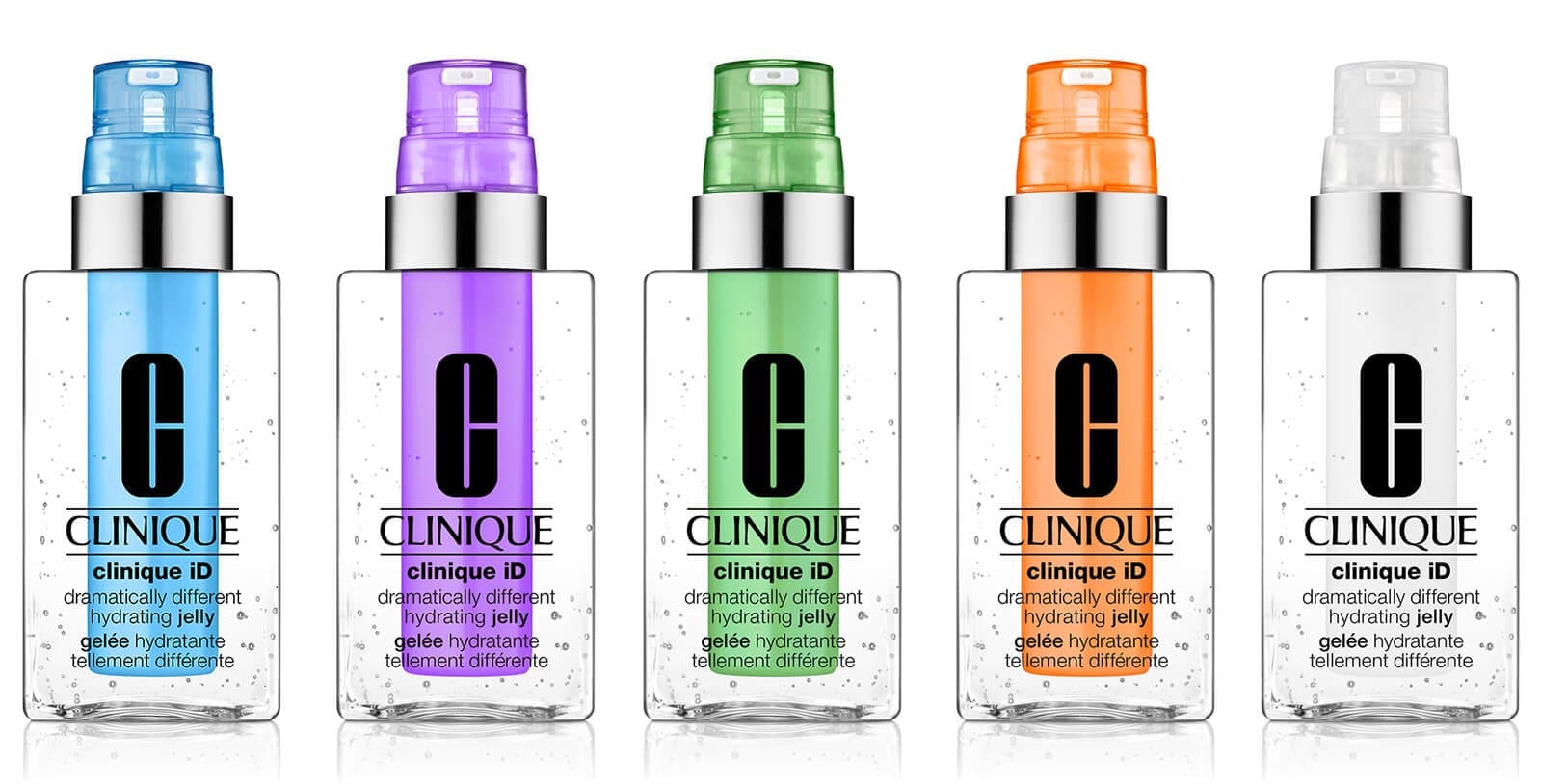 Choose your Clinique Moisturiser – our favourite is the Dramatically Different Hydrating Jelly. It's lightweight, perfect under makeup and shields skin from pollution. You can also choose from the Dramatically Different Moisturizing Lotion+ and the Dramatically Different Moisturizing Gel.
Choose a cartridge that caters to your specific skincare concern. Options include:
Blue = Uneven skin texture – Enriched with AHA's, this helps to even out large pores and clarify the complexion.
Purple = Fine lines & wrinkles – Fortified with whey proteins, this serum hydrates and plumps skin to eliminate the visible signs of ageing.
Green = Irritation – Perfect for soothing inflamed and sensitive skin, it contains probiotics to calm and nourish.
Orange = Fatigue – Enriched with taurine, the concentrate energises and brightens the skin for a radiant glow.
White  = Uneven skin tone – Japanese Angelica Root helps to brighten skin tone and improve the look of pigmentation.
3. Click Buy Now and you have created your very own custom Clinique iD.
All Clinique iD products are free from common chemical nasties like parabens and fragrance, meaning the range is perfect for all skin types, even those who suffer with sensitivity!
Click here to say hello to hydration and goodbye to your specific skin concerns with Clinique iD today!