If you're looking for something to shake up your skincare routine this Autumn – you can't go past a serum. A lightweight, easy absorbing alternative to heavy moisturisers but still chocked full of active ingredients – what's not to love?
Loaded with nutrients, ceramides, glycerin, natural ingredients (cucumber, aloe vera etc.) and vitamins like C, K, E, skin serums are oil or water-based products, that have the ability to penetrate deep within the layers of your skin, so that you get phenomenal results.
asap have come out with a NEW DNA Renewal Treatment and we're going to tell you why it's the Must Have Serum for Autumn.
asap DNA Renewal Serum – The Must Have Serum for Autumn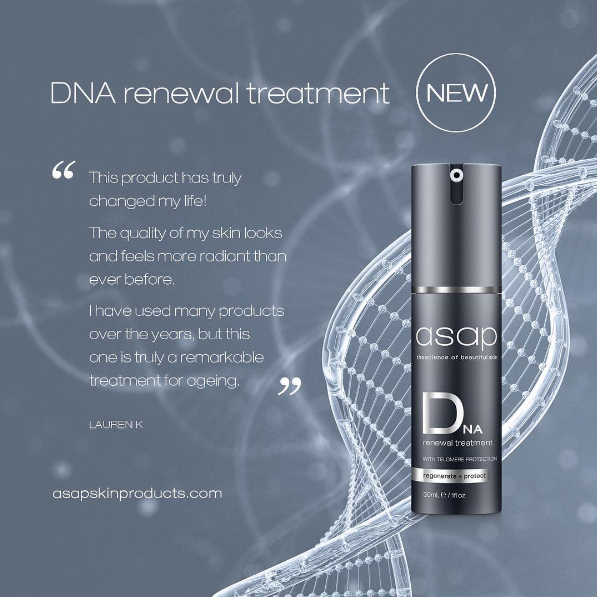 Why is this THE Must Have Serum?
1. The asap DNA Renewal Treatment contains telomere technology to assist in the protection and repair of DNA damage in the skin.
2. The asap DNA Renewal Treatment also contains a unique Multi-Peptide Complex to enhance cellular longevity and vitality.
3. With self-regenerative stem cell technology and polyglucuronic acid, fine lines and wrinkles are smoothed, cell renewal is boosted.
4. Skin hydration is boosted.
5. Skin appears firmer and younger.
6. It only takes one pump every second night for one week to see results.
7. Chic packaging makes this a stunning addition to any bathroom counter top.
8. Repair past damage, Regain youthfulness, Restore hydration, Protect skin's future – what else is there to say?
What our Expert Beauty Bloggers think: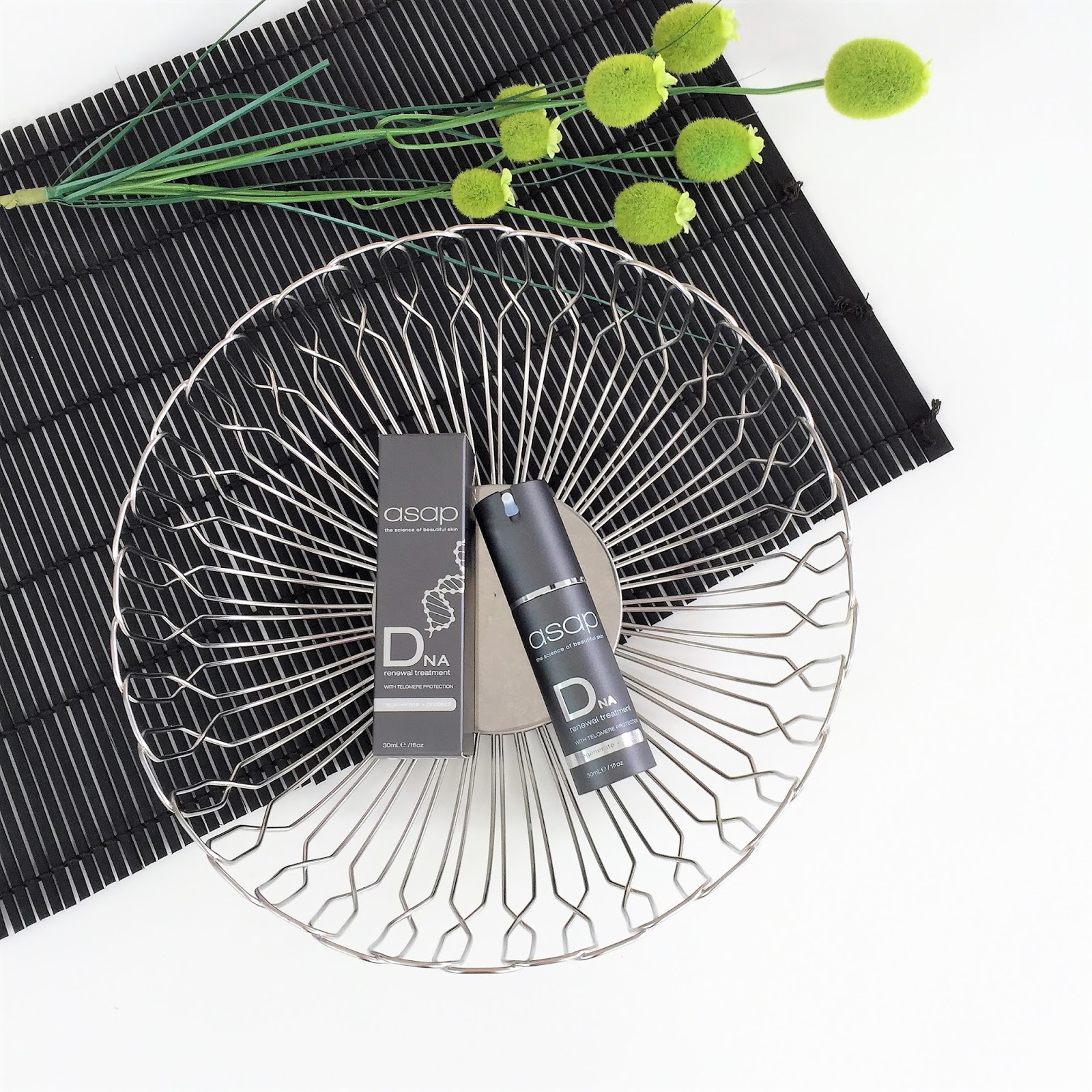 Barbara George – "My skin loves this treatment.  The first time I applied it, I literally saw my skin come to life. It was very exciting!  In just a few weeks, my skin has felt smoother, firmer and has a brighter appearance.  This product works. The treatment has a dense soft texture that glides onto the skin without leaving any oil residue and the pump bottle makes it easy to dispense the exact amount you need so there is no wastage. It is the perfect before bed step and used in conjunction with my other beauty products, I feel like I giving my skin all it needs to stay as hydrated as possible. ASAP is completely Australian made and owned and does not test on animals."
The Beauty & Lifestyle Hunter – "I've been using this treatment serum for about a month now, the first few weeks nightly, and hereafter 2-3 times a week, and have to say that I am more impressed with the results that I have already seen. My combination skin seems clearer and in general more refined, as well as it also seems more even in tone with pigmentation and sun damage clearly reduced in appearance, and consequently my skin looking more radiant and younger looking. While I never feel that my combination skin lacks moisture, I also feel that my skin is deeply moisturised and plumb, and that fine lines therefore appear to be less noticeable.  Overall I am really impressed with this DNA Renewal Treatment, as I feel it has such a significant effect on my skin in a very short period of time, – yes it is an extra step in your skincare routine as it is to be used prior to your serum, but if you are serious about anti-ageing and are looking to treat pigmentation, sun damage and dull uneven skin tone, then I highly recommend that you give it a try."
Real Mum Style – "I have been diligently smoothing this cream over my skin each night.  The directions say 'one pump' and that one pump is enough to cover my whole face.  So what have I noticed?  My eye wrinkles seem to be plumping up and my skin has an overall smoother texture.  Each morning my make up smooths on nicely after using this at night.  Overall smoother, softer skin with an improvement in my fine lines.  Yep, that's some good DNA right there. I'm pleased with my results so far and will continue using this each night to help diminish my fine lines and wrinkles.  I love knowing that I have tools in my skincare arsenal to attack those wrinkles and age issues that my regular cleanse, tone, moisturise just don't deal with."
Shannon Gibb – "I have used this brand before and experienced really good results. What actually really excited me about this product was the mention of 'Telomere Protection', as I am currently reading a book called 'The Telomere Effect'. This cream is using technology designed to aid in the protection and repair of DNA damage – SERIOUSLY SO COOL. I can't wait to start using this one, maybe before & afters will be necessary."
Wellness by Kels – "The ASAP DNA Renewal Treatment contains telomere technology to assist in the protection and repair of DNA damage, combined with a unique Multi-Peptide Complex to enhance cellular longevity and vitality (I mean, how more amazing could this sound? Off to pour this over my entire body ;))."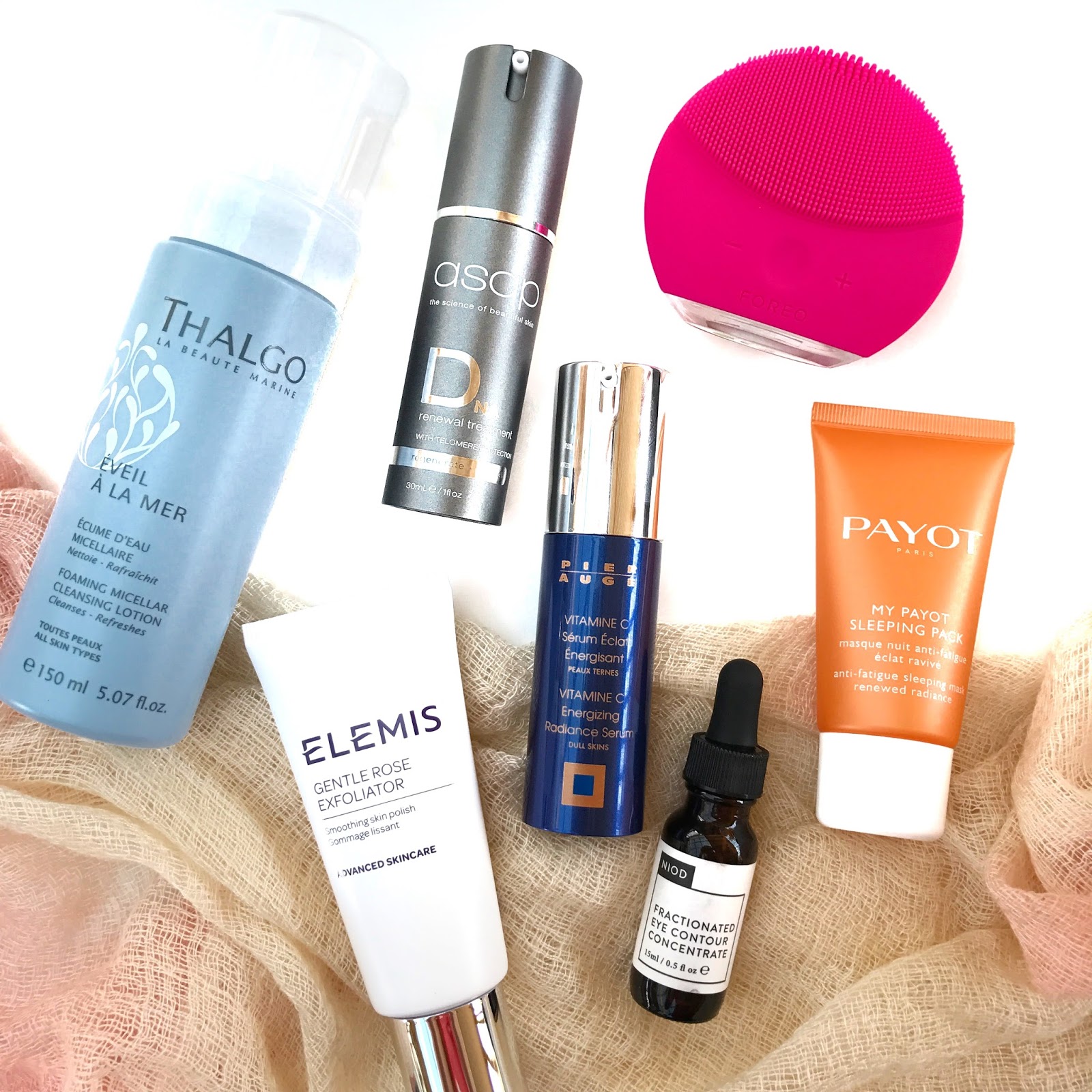 Check out the asap DNA Renewal Treatment here – it's a part of our new Luxe Skincare range.
For a limited time only spend over $199 on our Luxe Skincare range and receive a 9 piece Luxe gift. Use Code: LUXETIME.