We've heard celebs raving over Keratin treatments, and how straight and smooth they can make your hair. But do Keratin treatments actually live up to the hype? And what is Keratin anyway? Is this the new Kale of haircare?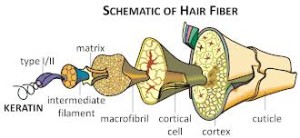 What is Keratin?
Keratin is a protein and major component in skin, hair and nails. Hair is mainly made up of keratin-associated proteins. The Keratin acts both as an external protective protein in the cuticle (outer layers of hair) and as an internal structural protein in the cortex (inner core of hair).
Why Does Your Hair Need Keratin?
Keratin in hair is depleted when the hair is damaged physically, chemically or from external factors such as the sun or salt water. Keratin loss exposes the hair's cortex and makes hair more susceptible to damage like dead and split ends and frizzing. Replenishing this lost keratin helps to restore the hair strands, making them smooth and whole again.
Keratin Treatments:
You can restore keratin in your hair by receive a keratin smoothing treatment at a salon. The hair smoothing treatment works by binding a liquid version of keratin combined with a chemical preservative to the hair, blow drying it into the hair, and then flat ironing the strand straight into position. This process helps prevent humidity from penetrating the hair and therefore locking out frizz. If your hair is super curly please be aware that a keratin smoothing treatment won't completely straighten your hair but it will soften the curls and make your hair easier to style and work with. Keratin smoothing is a semi-permanent solution that will keep your hair smooth and sleek for up to four months.
If you weren't after such a permanent (or expensive) solution – you can use hair care products that contain keratin such as the Keratin Earth Hair Straightening and Smoothing System. This system does not contain any formaldehyde which makes it safer for your hair. Some hair straightening systems can be highly damaging to the hair and very irritating to the skin, but Keratin Earth provides all the straightening effects without these disadvantages.