Those who really love their beauty know all about asap skincare, the Aussie-owned and operated brand delivering amazing cosmeceutical formulas that really work. If you're a newbie to this beloved brand, though, we're here to tell you all about it — and exactly why you need their Christmas packs in your life.
These asap Skincare Christmas Packs Make the Most Perfect Gifts
asap skincare was founded back in 2000 by an Aussie family who saw a gap in the market for results-driven products that didn't just gloss over the problem or act as a temporary fix. Instead, asap skincare products have been designed to provide long-lasting effects that radically improve skin clarity, texture and tone.
This Christmas, asap have put together three stunning Christmas gift sets, each of which is tailored to a different skin concern (and lady in your life!). Keep reading to find out all about each pack, and to discover which ones will perfectly suit those on your festive gift-giving list.
asap Brightening Serum Pack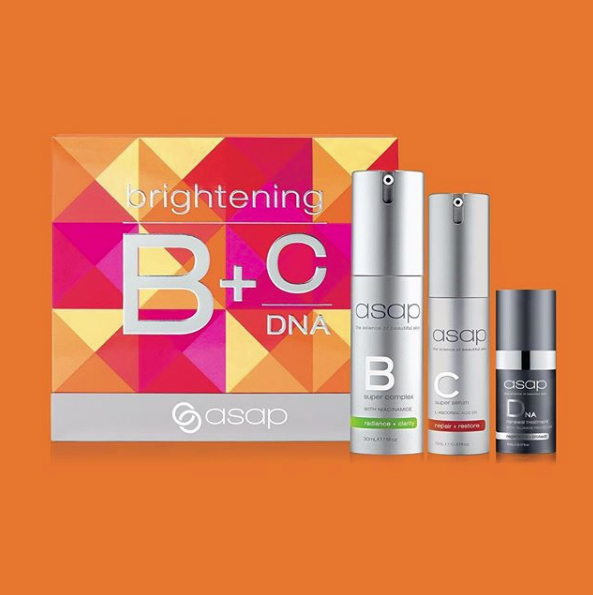 The asap Brightening Serum Pack features three key products within their extensive range — the Super B Complex, Super C Serum and the DNA Renewal Treatment. Housed in fun, geometric packaging in hues of pink, orange and yellow, this baby would look gorgeous under your Christmas tree (plus, it's so beautiful, you won't even have to wrap it!).
Using each of these three products as part of your daily skincare routine will impart some great results, with key benefits that include brightening, firming and rejuvenating the complexion.
Start off with the Super B Complex of an evening, applying as your nightly serum. Super B has a huge range of benefits, but has notably been found to boost collagen production, refine skin texture, lock in hydration and minimise pores. Sounds like magic stuff, right?! Super B contains a high percentage of Niacinamide, a stellar skincare ingredient which works to prevent against ageing signs by turn over skin cells quickly, in turn encouraging collagen.
Next up is cult fave, the asap DNA Renewal Treatment. A revolutionary hydrator, this product smooths out skin and prevents against ageing better than practically any product on the market. Self-regenerative stem cell technology is the driver behind this innovative product, and ensures skin stays taut, elastic and free of fine lines and wrinkles. Apply after your serums of a night to lock in hydration and protect the complexion.
Of a morning, make use of the Super C Serum to provide the skin with antioxidant benefits. Vitamin C plays a key role in brightening the skin, and has also been found to be a superstar pigmentation buster. It's also fantastic at protecting the skin against environmental damage, such as from the sun or harmful free radicals. Make sure you follow up your Super C Serum with a quality SPF to ensure skin is fully protected before you step out into the world for the day.
Ideal for: your sister, BFF or cousin in their 30s or 40s.