Ever heard the saying 'kill two birds with one stone'? Well, although we don't condone any actual bird-killing, the intention still stands! Accomplishing two things at once is almost always a positive (unless you're talking about shampoo and conditioner in one…yikes).
Double the Fun: Our Favourite Skincare Duos
That's where skincare duos come in. Not only are they here to make your life way easier, they're an excellent way to supercharge your routine for optimum results. After all, they're curated by the experts to ensure your skin can reap the rewards! Keep reading to find out our favourite skincare duos that are killing it when it comes to affordability and efficacy.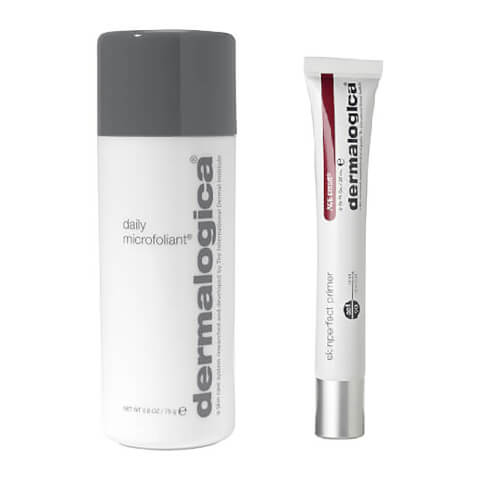 If the name doesn't already say it all, this duo features two products from go-to brand Dermalogica that complement each other perfectly. Like wine and cheese, highlight and contour or Netflix and a rainy day, these two formulas were meant to be together.
The first product is the Dermalogica Daily Microfoliant, which is a rice-based powder that activates upon contact with water. Although a powder exfoliant may be a little foreign to some, we promise that once you've mixed it into a thick, grainy paste, it applies beautifully to the skin. Key ingredients including Salicylic Acid help to smooth, brighten and clear the complexion. Natural skin saviours such as Colloidal Oatmeal calm redness as the exfoliant lifts away those impurities. Say hello to soft, smooth, bright skin after just a few uses!
The other product in this sought-after duo is the Dermalogica SkinPerfect Primer SPF 30. With a smooth, blendable formula and a slight tint perfect for no-makeup days, this primer glides onto the face with ease. The result is a brighter, more even complexion that's also protected against environmental damage from UV rays and free radicals.
Paired with one another, these products act as skin-smoothing superstars. You'll experience a brighter, softer and more balanced complexion with these in your daily routine.