Makeup brushes come in so many different shapes and sizes and claim to do so many different things. Well guess what – they actually are shaped that way for a reason, and if used correctly can give stunning results.
The Real Techniques range of makeup brushes created by blogger and sister duo Sam & Nic Chapman are not just great quality but look great too. The colour ordinated handles indicate which part of the face they're for and the range isn't too large that it's overwhelming.
Below is a list of the must-have Real Techniques brushes and their exact uses.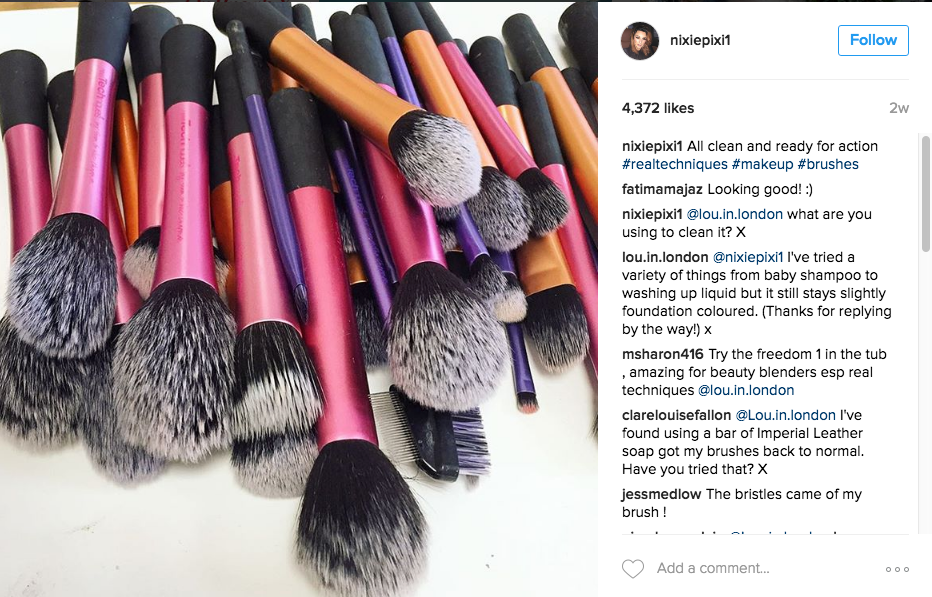 Which Brush Where Feat. Real Techniques
BASE – Orange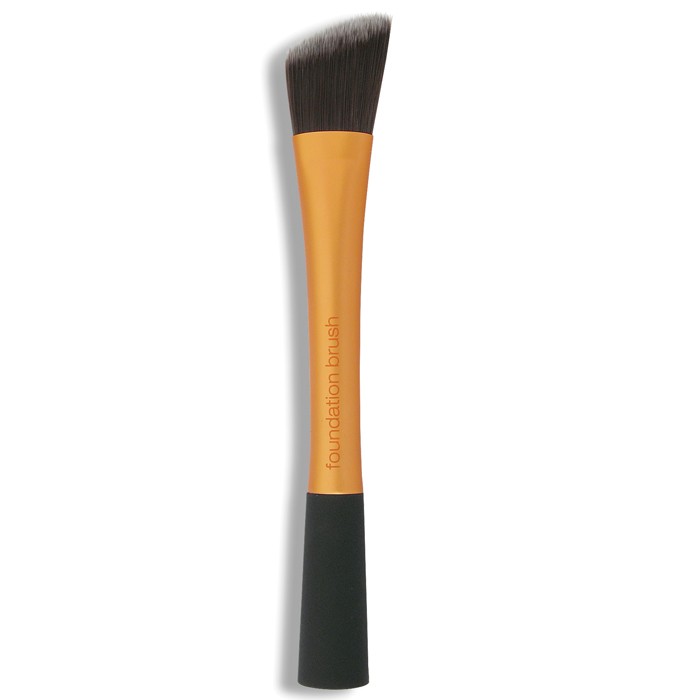 The Real Techniques Foundation Brush is slightly different to other traditional foundation brushes because of the angle brush head. Traditional foundation brushes have more of a flat, oval shape head but they do similar things. The angled head allows for blending of liquid or cream foundations for an airbrushed, high definition result.  Real Techniques Foundation brush features ease of blending, to look pixel perfect even in harsh light.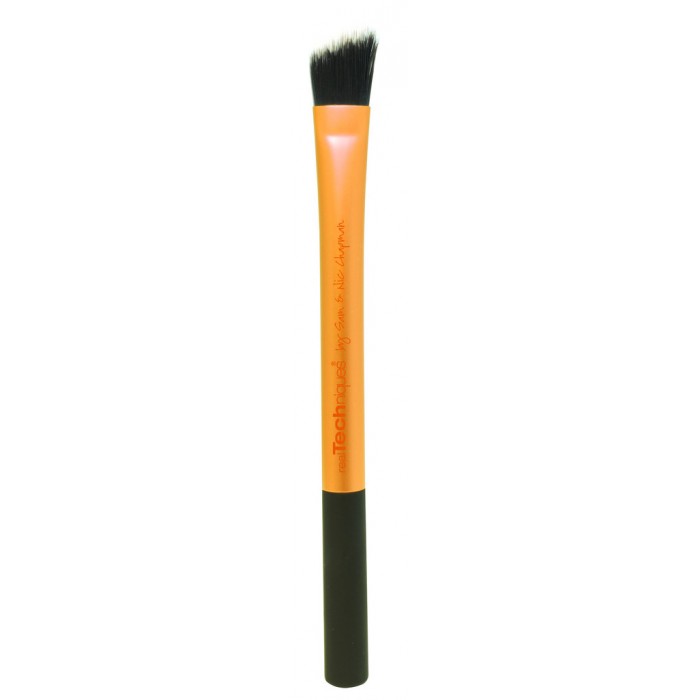 For blending out cream or liquid concealer, a concealer brush with a fluffy, angled head such as this from Real Techniques camouflages any blemishes or imperfections you have with ease. The angled tip is also great for getting right under the eye to conceal any dark circles.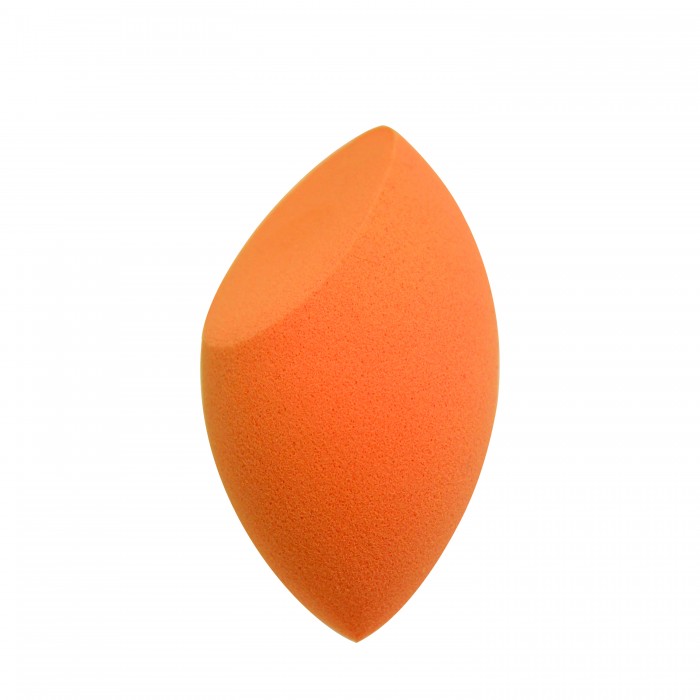 Dab or "stipple" cream or liquid powders out to a sheer finish with a rounded makeup sponge. The Real Techniques Miracle Complexion Sponge also has a flat side for contours around nose and eyes. Makeup sponges are pretty versatile in that you can also use them to apply other cream products such as blush or bronzer – makeup sponges blend cream products into skin flawlessly.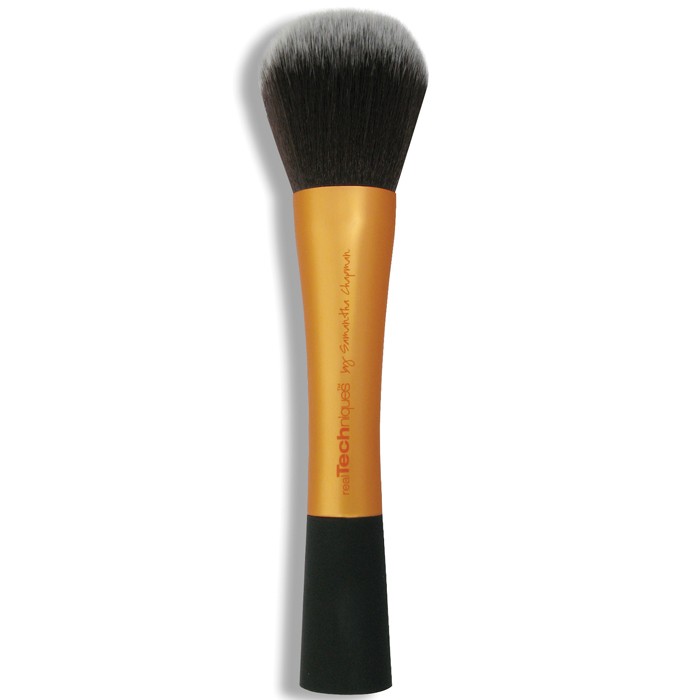 A powder brush will the largest of your brush collection. It's big, fluffy head helps pick up the perfect amount of powder and disperses it flawlessly on your face without looking thick or caked on. Can be used for mineral foundation or face setting powders.
EYES – Purple
The Real Techniques Starter Set has the 5 eye brushes you'll need to perfect any eye look.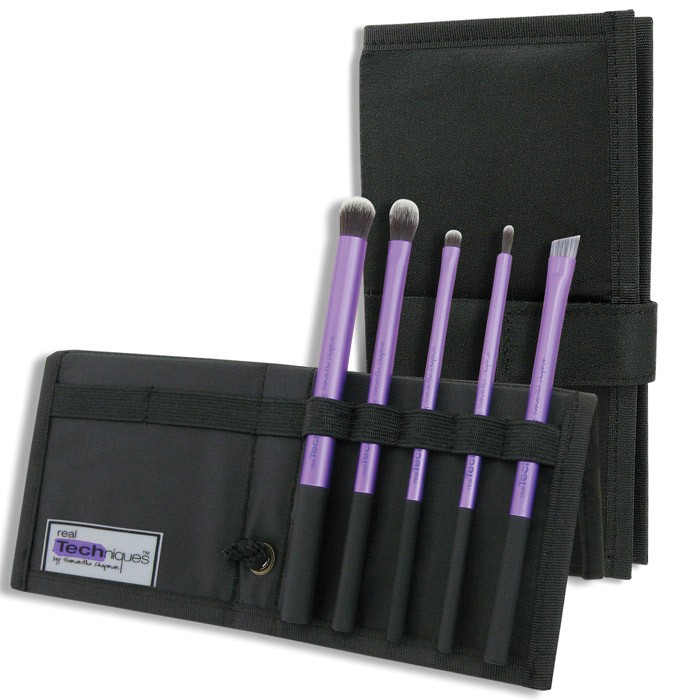 This includes:
Base Shadow Brush – Sturdy, flat small round brush that's perfect for packing cream or powder shadow on to your lid. The thick base and rounded top fit perfectly onto your lid for a great eye shadow base, press or sweep pigment over lid.
Deluxe Crease Brush – An oversized fluffy head on this brush means blending transition colours into the crease is a dream. Hold at the end of the handle and create windscreen wiper motions back and forth in the crease until completely blended.
Accent Brush – This tiny brush helps concentrate colour where you need it including inner or outer corner, lash line & on the brow bone. Pick up a small amount of your preferred eyeshadow with brush, and lightly press onto desired area. Then sweep brush over a few times to blend out colour.
Fine Liner Brush – Use with light, small dashes to apply cream eyeliner. Eyes will instantly appear more defined.
Brow Brush – For filling in sparse brows or giving more structure to disheveled brows. Start with filling in the tail with small brush strokes, then lightly fill in body and brush the rest of the product through the head –  you don't want the heaviest part of your brows to be the beginning.
FINISHING – Pink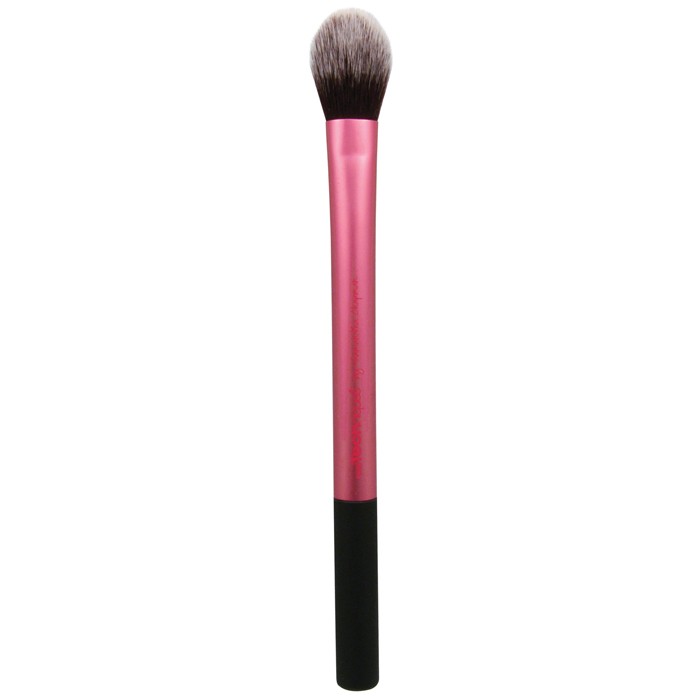 To finish any look to professional standard you need a soft round brush that's the perfect size for setting concealer under eyes, forehead and chin. Lightly dab your favourite setting powder over any area you need finishing and your look will be instantly boosted!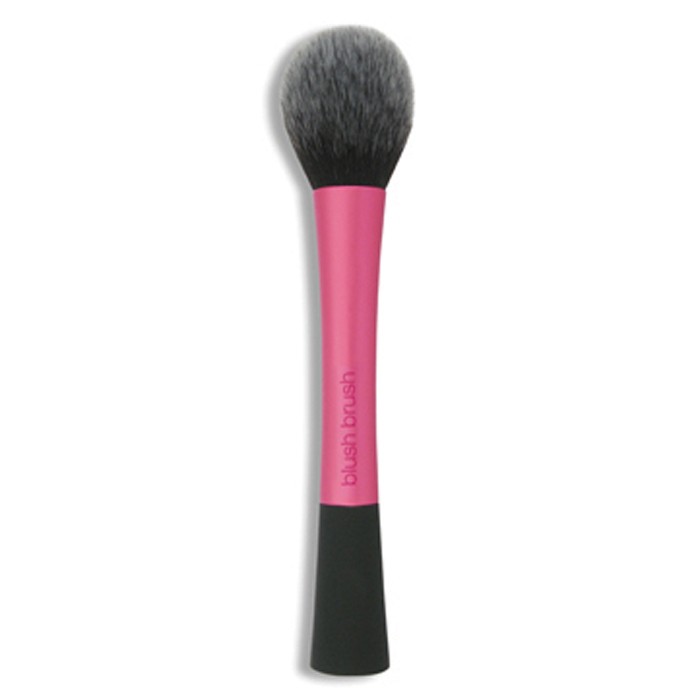 Blush brushes can come in a few different shapes and sizes – it is up to you which you prefer or which works best. The Real Techniques Blush Brush has a large fluffy head which means you can swirl a pop of colour over your cheeks and a little up your temples and be out the door.
Find the shadows on your face by sucking your cheeks in. Line the brush up with this angle under your cheekbone and then lightly dust the product back and forth. It's best to start with a little bit of product and gradually build up – otherwise you can end up with a muddy mess instead of a strong contour.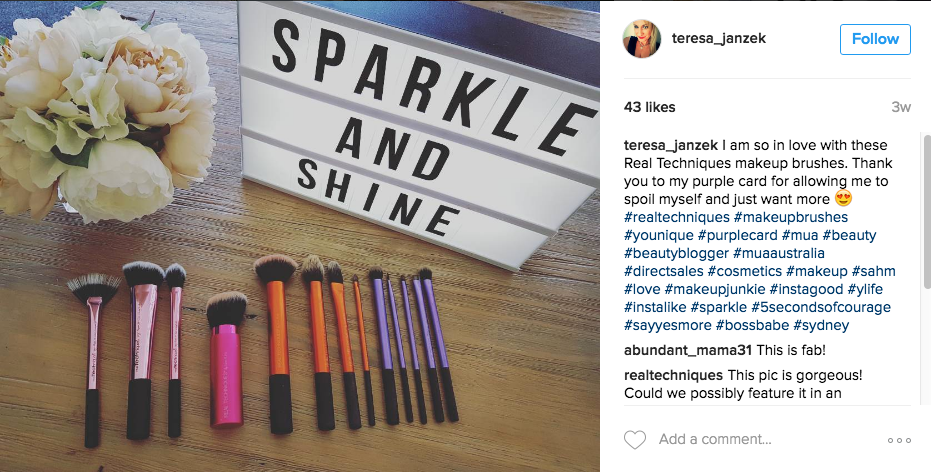 Check out our handy infographic to help you remember Which Brush Where.
Remember if you found it helpful to share with your friends!
Have you used Real Techniques before?
What's your favourite Real Techniques Brush