Despite having been around for 15-plus years now, Alpha-H skincare continues to stun in the beauty industry. The main culprit? The Alpha-H Liquid Gold, a cult favourite resurfacing treatment which has been proven to clear up a huge range of imperfections and concerns.
When a product is this talked-about, you just know it's worth adding to your daily routine, even just to see what all the hype is truly about. There's one sold every minute, if you can even comprehend that!
Why The Alpha-H Liquid Gold is Still Our Go-To Exfoliator
By now, the entirety of the RY office has given Liquid Gold a whirl. We've come to a not-so startling consensus — this product is downright amazing. Even with all of the other scrubs, exfoliants and peels we've tested out, nothing seems to beat this 'miracle in a bottle'.
If by some crazy feat you haven't heard about Liquid Gold, we're here to tell you why we keep on coming back to this product as a key component of our weekly skincare routines. Keep reading to find out exactly what makes this product special, and who can make the most of its amazing properties.
Plus, read through to the end to find out how you can claim 2 Liquid Golds for the price of 1 in December.
What Does It Do?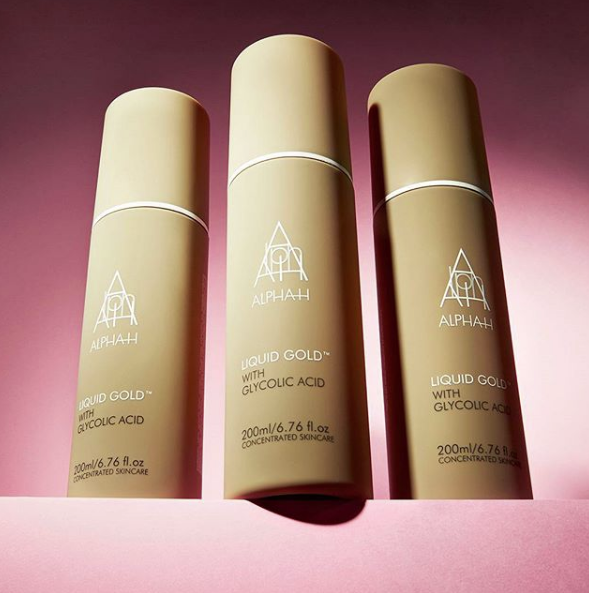 Ineffective or slow skin cell turnover is a huge contributor to practically every skin concern. Whether you're suffering from the accumulation of dry areas to stubborn acne scarring, pigmentation and fine lines, we guarantee a more results-driven exfoliation routine will help.
If you've been scrubbin' away at your face with a traditional manual exfoliant, AKA a scrub featuring micro granules, perhaps it's time to switch it up. Although they can be a little slower on the uptake, chemical exfoliants are beneficial in a number of ways. Here's the rundown on why we love a good chemical exfoliant:
They don't abrade or irritate the skin.
They work to penetrate below the skin's surface.
They can be customised to your unique skin concerns.
They're simple to use.
The Alpha-H Liquid Gold is our most popular chemical exfoliant, using star ingredient Glycolic Acid to do all of the heavy lifting. After using this product, you're guaranteed to experience some fantastic results.
Fine lines will stop in their tracks, acne scarring will fade, hyperpigmentation will balance out and dry skin will be no more. It's also a seriously effective redness buster, helps to clear up breakouts faster and improves radiance tenfold for that enviable glow. Seriously, what can't this product do?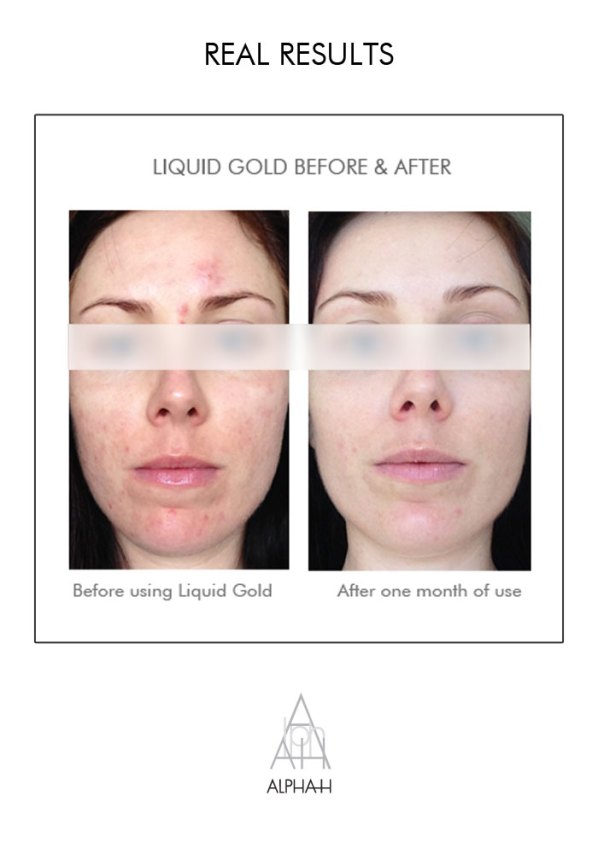 If you're not yet convinced, check the above before and after. Holy transformation!
What's In It?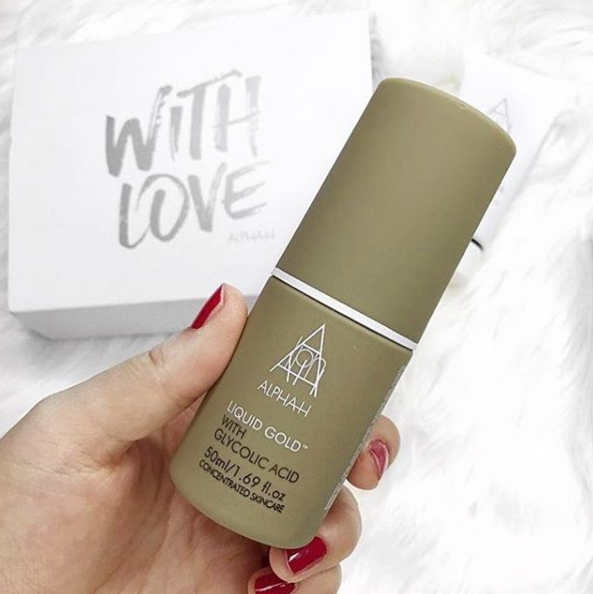 As you've just heard, 5% cosmetic grade Glycolic Acid is the superstar addition that makes Liquid Gold so effective. Part of the AHA (alpha-hydroxy acid) family, it boasts high acidity and solubility, which means it'll potently absorb into the skin at lightning speed.
As well as encouraging cell renewal, Glycolic Acid has an array of benefits that include boosting hydration and increasing transportation of other helpful ingredients, including antioxidants.
You're not just slapping pure Glycolic Acid on your face when using Liquid Gold, though. Liquorice extract and silk proteins also make up this unique formula. The former is an inflammation-fighting favourite which dates all the way back to traditional Chinese medicine. It's also great at banishing those dark spots, so when combined with an acid, pigmentation's got no chance. 
Silk proteins are also pretty great at what they do. Bursting with 18 amino acids, silk proteins help promote a healthy skin barrier and are excellent at fending off free radical damage.
Who Can Use It?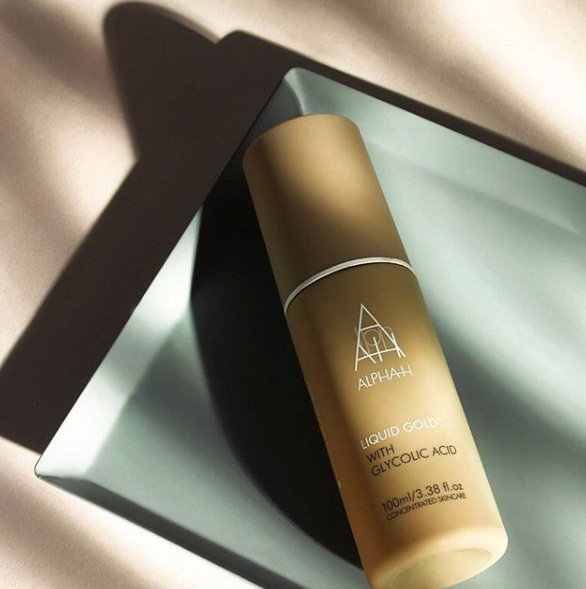 The best bit about Liquid Gold is that it's truly universal. All skin types can benefit from using it, including acneic, sensitive and dehydrated. Switch up your use based on your skin type for optimal results.
If you're prone to sensitivities, including redness or dry, scaly patches, be sure to spot test Liquid Gold on your hand and let sit for 24 hours. If you don't experience any reactions, go ahead and apply to the face, but at a lesser frequency than is recommended. We suggest using it twice weekly for a few weeks before upping your frequency to every other day like it's intended to be used.
Aside from that, all skin types are bound to benefit from this unique and beloved product. No matter your complexion, pick it up today to begin experiencing its wonders (seriously, it's that good).
How Do You Use It?
Liquid Gold is super easy to use, so can slot into any existing routine without too much of a hassle. Simply grab a cotton pad or cloth and apply to the entire face, avoiding the eye area, as you would a toner.
Glycolic Acid does have a conflict or two, so ensure you're not using a retinol immediately after this product — alternating day and night is the best alternative. We recommend using your Liquid Gold of a nighttime, once every two days. Using it in the evening before you head to bed not only gives this formula ample time to work, but it also ensures it won't conflict or be watered down by your morning sunscreen.
Liquid Gold is already quite a potent product, but if you really want to accelerate its effects, use it as the last step in your routine rather than applying a moisturiser or night cream afterward.