Here at RY, we love being able to offer you the latest and greatest brands everyone's talking about. One of the most exciting new ranges to hit our shelves is Gatineau, an innovative French skincare brand that's over 80 years old.
Discover Innovative French Skincare With Gatineau
Keep on reading to discover all things Gatineau, including the brand's storied history, their most beloved bestsellers and more.
The Gatineau Story
Eighty-five years ago in Paris, a visionary beauty therapist, Madame Jeanne Gatineau set out to provide revolutionary skincare solutions. She took her passion for beauty and opened her first beauty salon, providing avant-garde treatment techniques that attempted to change the appearance of women's skin.
Having studied the work of French scientist and anti-ageing specialist Alexis Carrol, Madame Gatineau envisaged developing her own professional skincare line that would maximise the results of her in-salon treatments. Fascinated by what she learned from Carrol, she collaborated with experienced dermatologists and bio-chemists to create state of the art formulas. These combined the most effective botanical extracts with cutting-edge biotechnology, and soon established the brand as an anti-ageing innovator as a result.
With this promising start, Gatineau went on to grow and expand its professional expertise, with the Jeanne Gatineau School of Beauty opening in 1950s Paris to thousands of students. Soon, the demand for Gatineau skincare led to the manufacture of products for at-home use, thus establishing the brand as we know it today.
Almost a century later, Gatineau products fuse the finest botanical ingredients with advanced cosmeceutical science, creating results-driven skincare products with visible anti-ageing results. Gatineau's continued pioneering research and development has resulted in cosmetic breakthroughs that have acted as stepping stones for the industry. The first beauty house in the world to develop an exfoliator and alcohol-free cleansers and toners, Gatineau were quick to establish themselves as a highly-regarded brand that offered long-lasting, transformative results.
Available in 78 countries and counting, Gatineau is more than just a skincare range — it's a way of life. The skin is in constant, day-to-day contact with environmental aggressors such as UV rays, pollution and smoking, so it can often experience physical ageing signs at a young age. Gatineau products help activate youthful skin with their 6 different anti-ageing ranges, each of which targets ageing signs at a different level. From fine lines to wrinkles, prevention to cure and dehydration to dullness, there's a product to match every skin concern in this range.
The Core Anti‐Ageing Ranges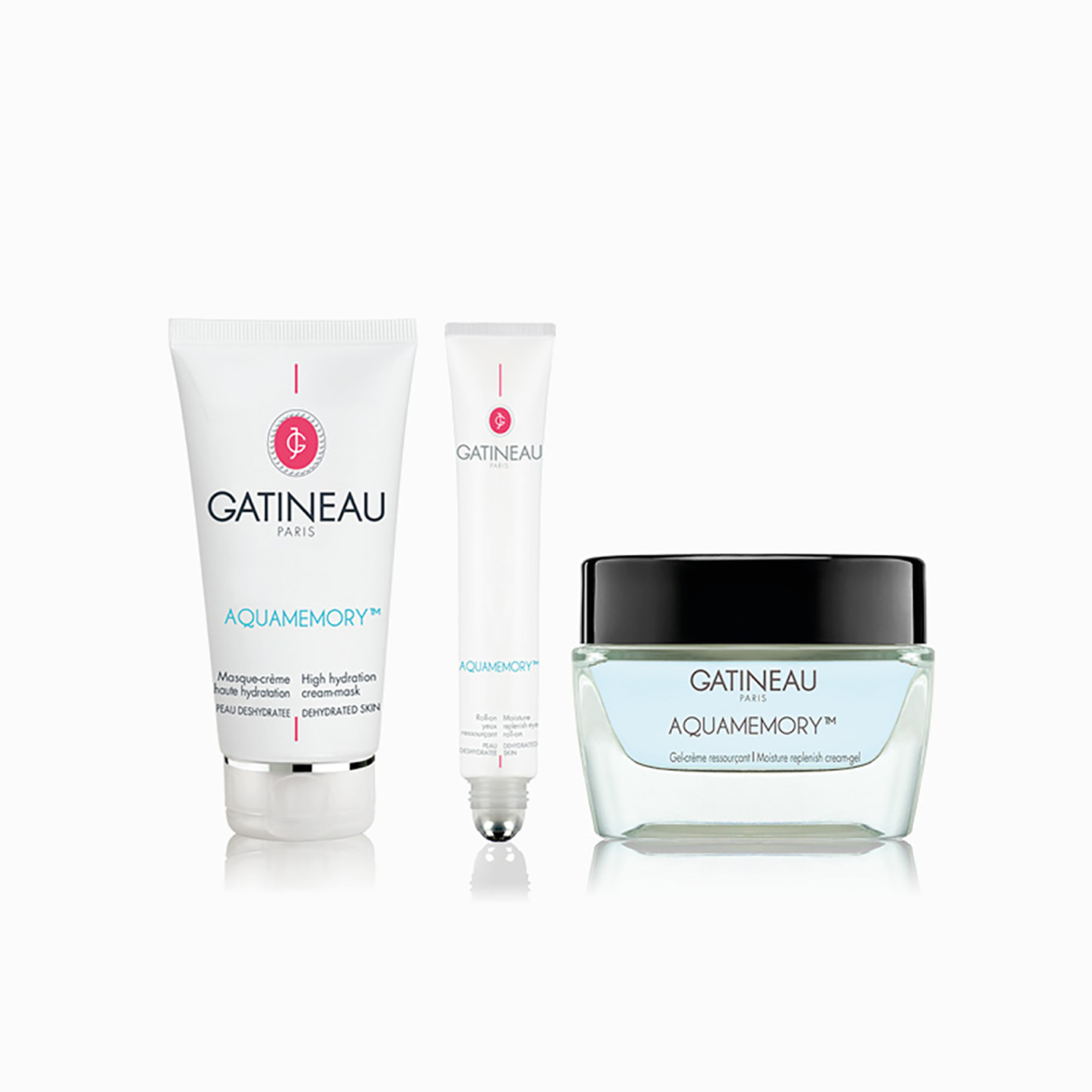 Aquamemory – If the skin is feeling tight and parched, it's most likely lacking in moisture. This is a dangerous position for the skin to be in constantly, as dehydration can cause premature ageing. The Gatineau Aquamemory range is enriched with anti-pollution sea plant technology that replenishes skin with immediate hydration, comfort and softness. Think of it as like giving the skin 8 glasses of water a day!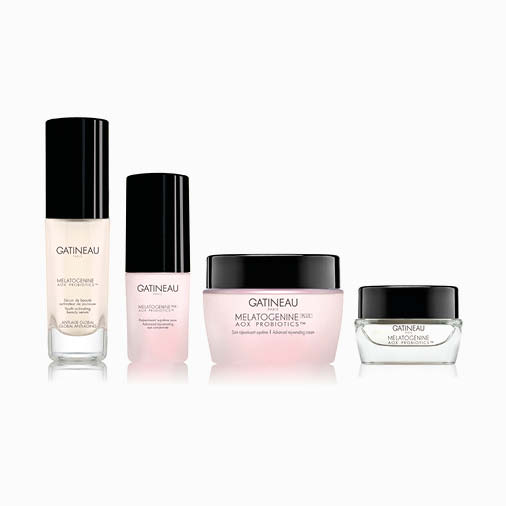 Melatogenine AOX Probiotics – In your 30s and beyond, fine lines and wrinkles can become permanent fixtures. The 2001 launch of the ground-breaking Gatineau Melatogenine youth molecule revolutionised the skincare world due to its fine line and wrinkle-reducing properties. With the addition of important antioxidants and rebalancing probiotics, this really is the brand's most iconic anti-ageing range.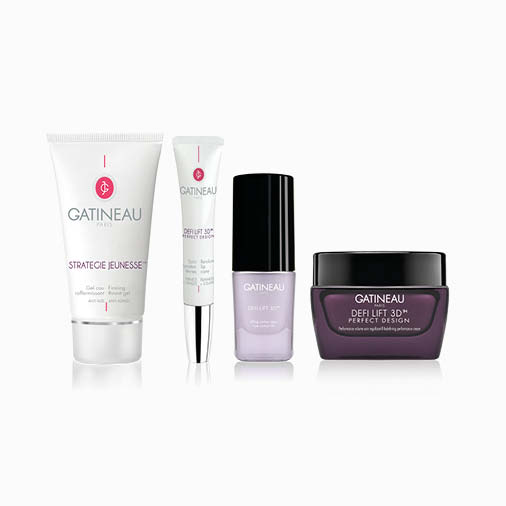 Defi Lift – Deterioration of the protein elastin in your 40s can leave skin saggy, loose and 'crepey'. Enter the Gatineau Defi Lift range, which features plant protein technology that acts like scaffolding, rebuilding the skin's network for a tighter and more lifted, sculpted appearance. This range is all about 'putting the spring back into your skin'.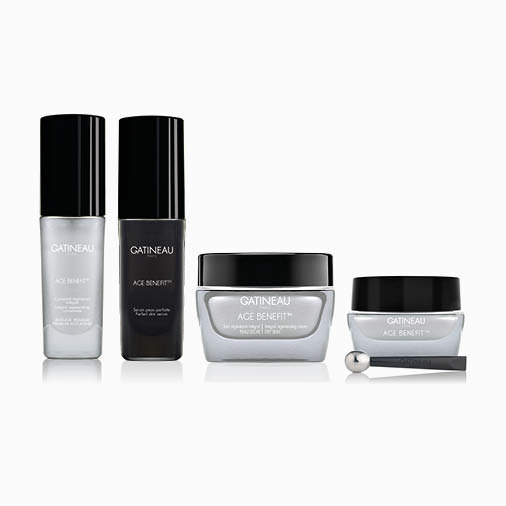 Age Benefit ‐ If you're detecting advanced signs of ageing in your 50s and beyond, such as deep wrinkles, lack of firmness, dullness and uneven skin tone, then it's time to turn back the clock! The Gatineau Age Benefit range is the way to do it. Artichoke leaf and hibiscus extract correct the signs of ageing, visibly restoring healthy skin tone, texture and elasticity. PS. If you're oestrogen deficient, this range will also be your new best friend!
So, there you have it — an 85-year brand heritage, revolutionary formulas and a global presence are amongst some of the factors that set Gatineau apart from the rest. Step into the Gatineau skincare world and experience amazing results for yourself.