So your regular brow lady is closed and you're getting pretty desperate as your once sculpted brows are starting to meet in the middle and the hairs are multiplying by the day. Don't worry, we've got you! keep on reading for all the tips and tricks on how to achieve perfectly sculpted brows at home!
Here are our top picks for everything you'll need!
Now that you have everything you'll need, let's get sculpting!
Step one – Getting prepped
Heat up your wax by having the heat setting on medium; once the wax has melted we  recommend you test a patch of wax on your wrist to make sure the temperature isn't too hot, it should feel warm and the consistency should be thick not runny.
Step Two – Creating your desired shape
Brow Mapping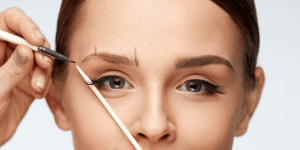 A lot of brow technicians use this method to get the correct brow shape for your face by using string or a pencil and lining it up from your nose and marking out the main three points of your eyebrows. This step will help you know where your brows should start and end based on your own face shape.
Step Three – Now for the fun part, sculpting!
– Ensure the area you're waxing is free from any makeup or oils as the wax will not adhere properly.
– Grab a spatula and scoop up a pea size amount of wax and carefully glide the wax over the hair you would like to remove in the direction of the hair growth.
– Allow for the wax to dry for 30 seconds, hold your skin taut and rip the wax off in the opposite direction you applied it using your fingers.
– Be careful not to wax over areas more than once as you can cause irritation which could lead to your skin being damaged; instead tweeze any hairs that weren't picked up by the wax.
– Trimming your brows is really easy! Brush up your brows with an eyebrow brush and trim across the tips of the hairs, don't cut into the brow as this will create patches.
– Apply a soothing cream or Aloe Vera gel over the waxed area to help soothe redness and reduce puffiness, our top pick is Lycon's Tea Tree Soothe Lotion as it also has antibacterial properties.
Repeat the above steps on your other eyebrow. Remember to take your time- you want to ensure they are as even as possible!
The final step is filing them in using your preferred eyebrow product and set in place using brow gel!
Happy Sculpting from us here at RY xx